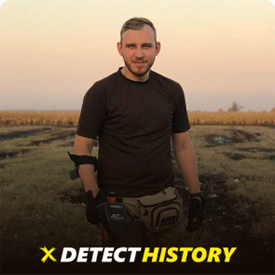 Michael Moore
Founder of the detecthistory.com
Welcome to the Detect History!
This resource was created to provide objective, informative, and recent reviews, ratings, and guidelines for all passionate metal detectorists around the world!
We constantly work on updating the info, looking for news from the leading brands, and researching this exciting hobby of metal detecting and treasure hunting.
Our goal is to make metal detecting possible for everybody, regardless of age, location, and experience.
If you would like to contact us, send us your own review, or offer collaboration – please fill the "Contact Us" form below.
About Me
Hello, Detectorists!
I am Michael, blogger, founder and owner of the Detect History (detecthistory.com), the website about metal detecting.
I have been metal detecting since 2010, and during all these years I happened to try out almost every metal detector that is available out there, including my own Garrett Ace 250 and Garrett AT Pro. Because of that, I was able to find out a lot of specific and crucial aspects on metal detectors, to understand which functions of a machine are really important, and which features are added by the manufacturers for the sake of fancy, or for the sake of taking more money from the buyer. You will probably agree that all those fancy-shmancy features make no sense in case the metal detector does not complete its main task – that it, to bring finds.
At the same time, the situation with reliable reviews and useful information available on the Internet is saddening today. The point is, one can find tons of reviews on metal detectors, but far from every review is written by the real treasure hunter who has actual experience in this hobby, and, what is even more important, who has at least some practical expertise in the niche. Because of this, many newbies become confused, buy a machine that does not suit them or does not fit their requirements, get disappointed, and eventually drop the hobby.
This is exactly the reason why I have created this platform – to share my knowledge and experience with metal detectorists from around the world, and especially with beginner treasure hunters who only makes their first steps on this path.
Specially for such newbies I have written a book, Metal Detecting Revealed: The Utmost Metal Detecting Guide, where I took effort to share all the crucial aspects of metal detecting in a clear and honest manner, and also to give recommendations on how to choose a metal detector and what features to pay attention to.
I also took effort to make this website as useful and informative as possible, for example…
I have gathered lists of the best metal detectors according to certain criteria…
I have also added constantly updated reviews on metal detectors and accessories, and a metal detecting encyclopaedia with technical specifications of all metal detecting models, to the website.
You will find interesting news, recommendations, and guides in my blog. Also, you can subscribe to our Facebook page to get updates on the latest events, and to our Instagram account to get pics of the most exciting finds by metal detectorists from around the world!
To contact me, fill the form below, or send me an email to [email protected]
Happy Hunt!
Contact Us