Technical Specifications:

Rank:
Professional
Detector Type:
All-Purpose
Technology:
VLF Single Frequency
Frequencies:
7.2 kHz
Number of Frequencies:
1
Coil:
Garrett 9.5" PROformance Imaging / Garrett 12" PROformance Imaging
Search Coil Type:
Concentric
VDI:
No
Search Modes:
5
Search Mode Types:
Coins / Jewelry / Relics / Zero / Custom
Depth Indication:
Yes
Ground Balance:
 Automatic Ground Tracking
Pinpoint Mode:
Yes
Audio Tones:
3
Display Type:
LCD
Assembled Length (min-max):
40"-51"
Batteries:
8 AA batteries required
Item Weight:
2.1 kg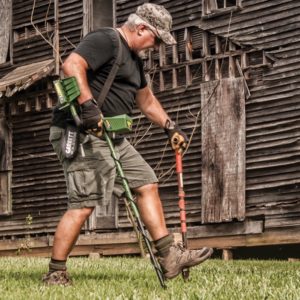 GTI 2500 metal detector allows you to search for targets at a depth of up to 1.5 meters with a standard coil, plus has a special attachment-magnifier to work in deep mode. This model can be used in the most difficult tasks : research in the field of archeology, finding lost precious metals, search for non-ferrous metals, work in the industry, search for waste. It is possible to search for native gold due to the fact that the model has All Metal mode and ground balancing.
Ability to search for large objects at a depth of up to 3 meters. In GTI 2500 all metals mode, all search options are saved.
From the list of devices operating at a depth, stands out for its unprecedented capabilities nozzle "depth multiplier". Thanks to this nozzle, you can determine the type of metal, the depth of its occurrence and the size of the target. Also, the presence of a special attachment-magnifier makes it possible to find metals at maximum depth. When changing heads, the metal detector automatically starts working in the new mode. The installation procedure is very simple and does not take much time. It is important to take into account the specifics of the search for metals when using the multiplier nozzle. When the rear coil is above the middle of the desired object, the signal volume is maximum, and with the forward movement-sharply decreases. When the soil is mineralized, the instrument emits a quiet continuous sound that can be turned off by using the threshold setting. In any case, you will hear an eye-catching signal about the found object.