Yes, it happened! The company Macro announced three new metal detectors: Kruzer, Multi Kruzer and Gold Kruzer. The differences are: Multi Kruzer is multi-frequency, Kruzer has only one frequency and Gold Kruzer model has a frequency of 61 kHz and is designed for searching gold nuggets.

Best Offers for Makro Kruzer and Makro Multi Kruzer
Features
In General, the metal detector has many new features and advantages, for example:
Waterproof to 5m, IP68 standard. By the way, this is the world's first metal detectors that meet the IP68 standard
Enhanced mode "Beach"
Excellent discrimination and definition of targets in the ground
Fast recovery speed in 3 tone mode (works on sensitivity up to 90)
The new function of E. U. D (Extra Underground depth) for working on the heavily iron-clad soils and in areas with highly mineralized soil. Can work on the beach with salt water
6 search modes
Configurable depth of target definition
Weight-1.4 kg
The kit includes wireless headphones (WiFi 2.6 GHz). Holds up to 19 hours
The ability to charge the battery with Powerbank
The cassette for AA batteries is also waterproof. 5 extra coils, including 1 mono coil
Avto Software update
Makro Kruzer and Makro Multi Kruzer Search Modes: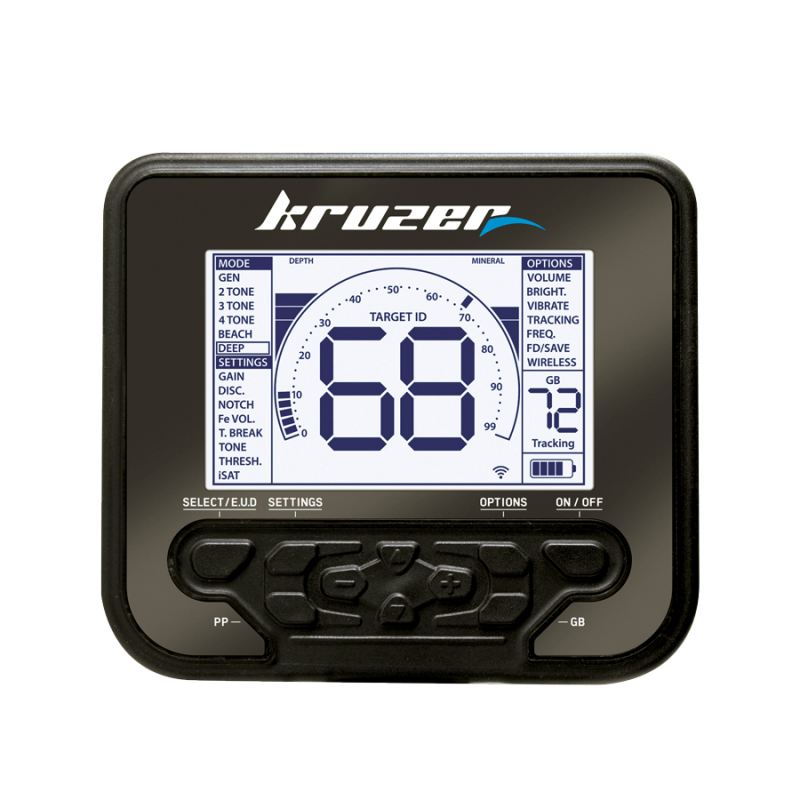 In the upper left corner there are 6 search modes under the word "MODE". Let's analyze each mode separately:
GEN
GEN mode is like  "All Metals" mode in other metal detectors, but with one important difference: you can adjust the threshold tone level (THREAD.), which is very important for searching small coins and relics. Recommend to use it for digging an "old places" where you were early. It's the most deep search mode after the DEEP mode, of course.
2 TONE
Two-tone discrimination mode. Iron will sound a low tone and everything else — tone higher. In this segment, iron targets are on the scale to the value of 15, from 15 to 99 — targets of non-ferrous metals. You can change the key transition to your preference by using Tone Break.
3 TONE
Three-tone discrimination mode. Iron sounds low tone, and the non-ferrous metals is divided into two colors — medium and high. Low tone for targets from 0 to 15, medium tone for targets from 16 to 66 and high tone for targets from 67 to 99. You can change the key transition to your preference by using Tone Break. If the sensitivity is up to 90, this mode is the fastest in response speed, which means you can use it perfectly on the trash.
4 TONE
Four-tone discrimination mode. In this mode, iron sounds low tone and non-ferrous metals are divided into 3 different tones. Low tone from 0 to 15, low to medium tone from 16 to 30, high to medium tone from 31 to 66 and high tone from 67 to 99.
BEACH
Beach mode. Specially designed for beach search in the surf zone and on wet sand, as well as in the water! You can also use on the fresh plowing where the ground is wet and mixed. In this mode, the ground balance level is open to 0-99, which makes this setting much better. Also, the level of discrimination is set at 15 to discriminate and cut off the response from soil and ferrous metals. In this mode, the voice is dual tone, standard 0-15 low tone and 15-99 high tone.
DEEP
The deep mode. Created for searching in small areas, requires slow wiring coil. The deepest mode of all presented in this series of metal detectors. In this mode, metal detector is noisier, but the noise is louder when the coil is in the air, not above the ground. Also, dual tone mode-0-15 low tone and 15-99 high tone.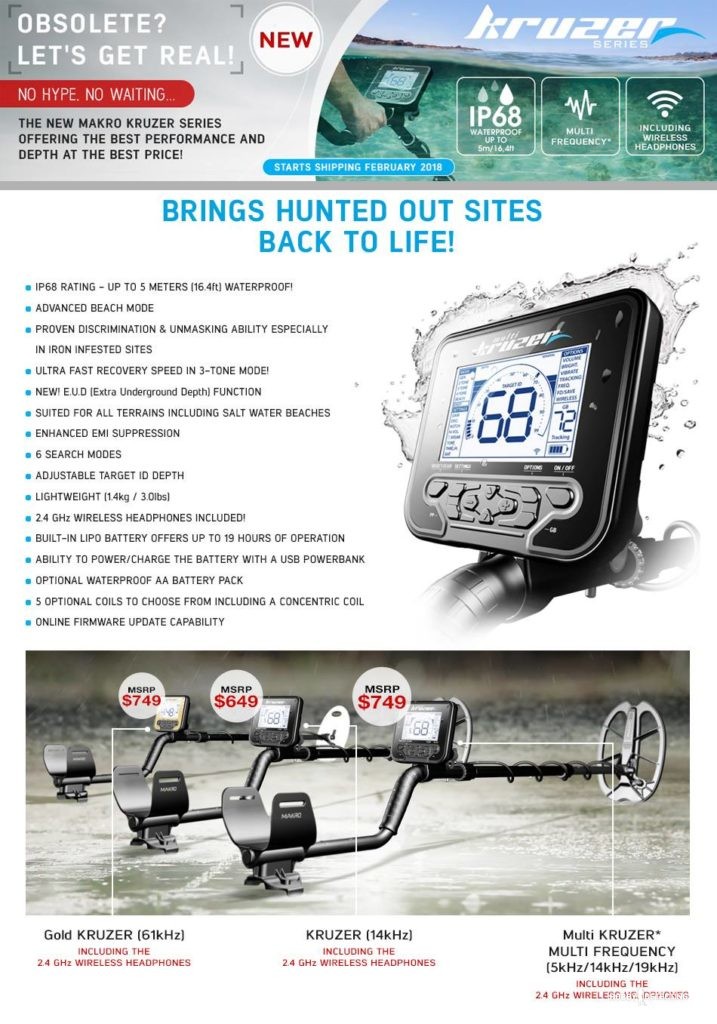 Technical Specifications of Metal Detectors:
Makro Multi Kruzer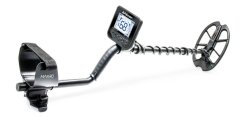 Technical Specifications:

Rank:
Professional
Detector Type:
All-Purpose
Technology:
VLF Single Frequency
Frequencies:
5 kHz / 14 kHz / 19 kHz
Coil:
11" x 7"
Search Coil Type:
DD
VDI:
Yes
Search Modes:
6
Search Mode Types:
All Metal / Beach / Discrimination / Three Tone / Two Tone / Deep Mode (DEP)
Ground Balance:
 Automatic / Manual / Tracking
Pinpoint Mode:
Yes
Batteries:
4 AA batteries required
Item Weight:
1.4 kg
Check more information here:
---
---