Metal detecting is cool, since everyone has a chance of spotting a hidden treasure, an ancient jewelry piece, or a relic of some kind. Yet rare US coins remain one of the most frequent and widespread type of finds all over the US. To be able to tell rare US coins worth money from more common ones, each detectorist which prefers coin shooting should know at least some basics of numismatics. It makes little sense running around the town to find an expert, especially if living in a smaller city.
Eventually, each treasure hunter will develop a rare US coins list to be able to identify rare US coins value quickly. Most items should be not younger than 1960. To get more information on this aspect, check out our review of some of the coolest rare coins in US.
1933 Saint-Gaudens Double Eagle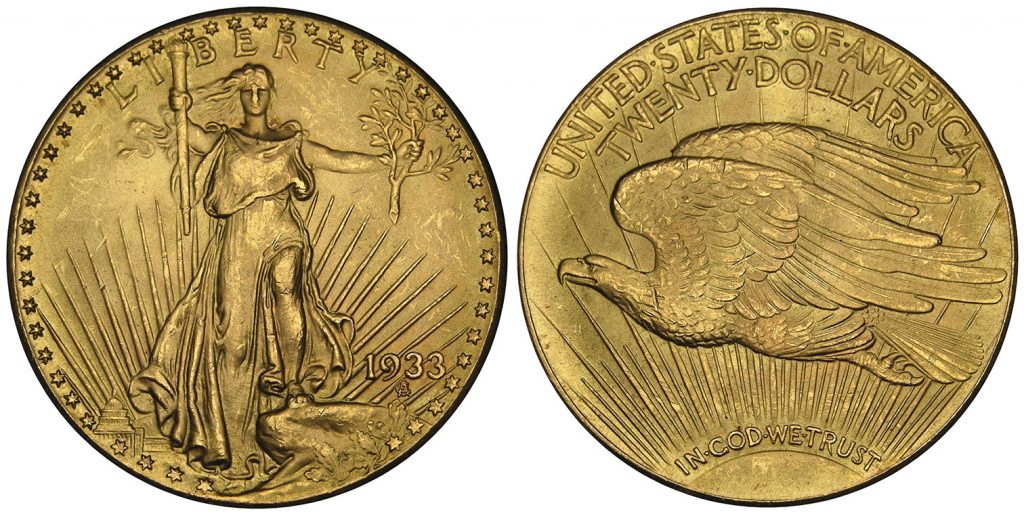 These ones were in use during the Great Depression, and when Roosevelt ordered to collect all gold coins for melting, some of them were either smuggled or simply kept by individuals for various reasons. According to statistics, generally about a dozen of those golden Double Eagles has not been melted. While in 1933 the value of each was about $20, in 2002 one was sold for more than $7 million.
1804 Draped Bust Dollar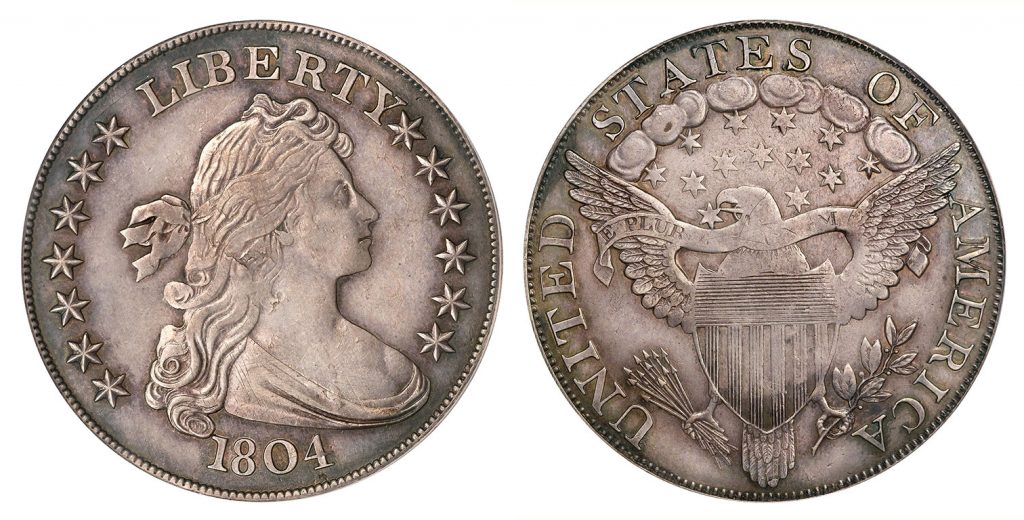 In 1834, the Jackson administration wanted to make a gift to foreign dignitaries in the form of coin sets, however, there were no silver dollars made during the previous years. So the administration decided to make 8 silver dollar coins dated 1804 and 1803. The value of these tricky items today is more that $1 million for each.
1787 The Brasher Doubloon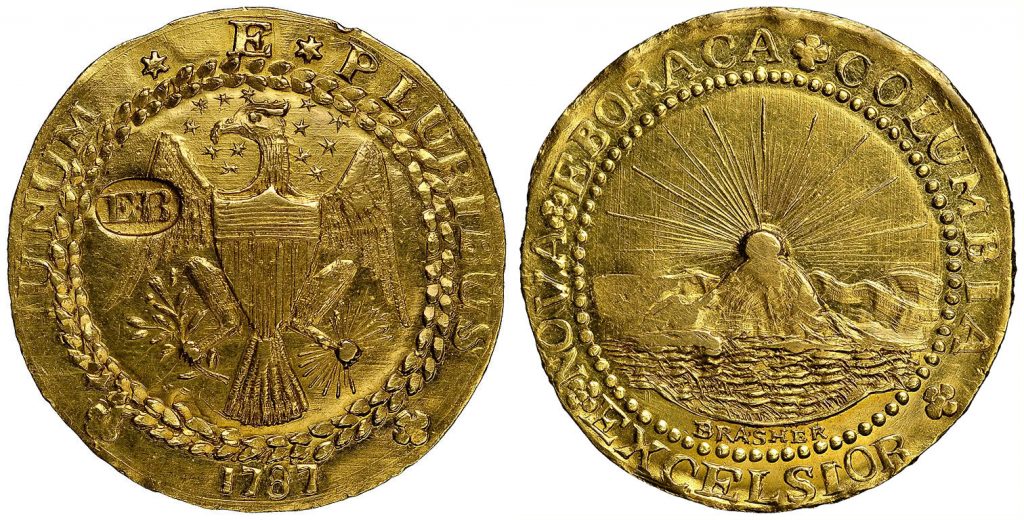 Before year 1789, when the new constitution was adopted, the state of New York was allowed to make its own coins (as all other states as well). Goldsmith Ephraim Brasher was one of the experts who signed such contract for New Your state, and his responsibility was to produce copper coins. Yet, for unknown reasons, he made several beautifully adorned golden coins. Today, only seven such items are known to exist.
1861 Confederate States Half-Dollar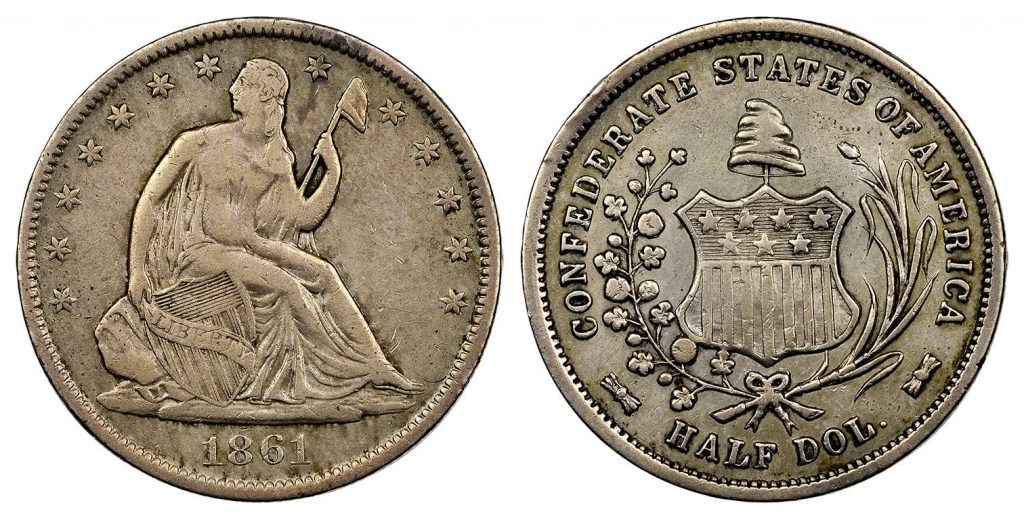 After 1861, the South decided to use paper money instead of coins, partially because most mints were taken under the control of Confederates, and partially because the southern states had no reserve of precious metals. However, several cents and half-dollars remained and started to be shown in private collections after the Civil War.
1974 Aluminum Penny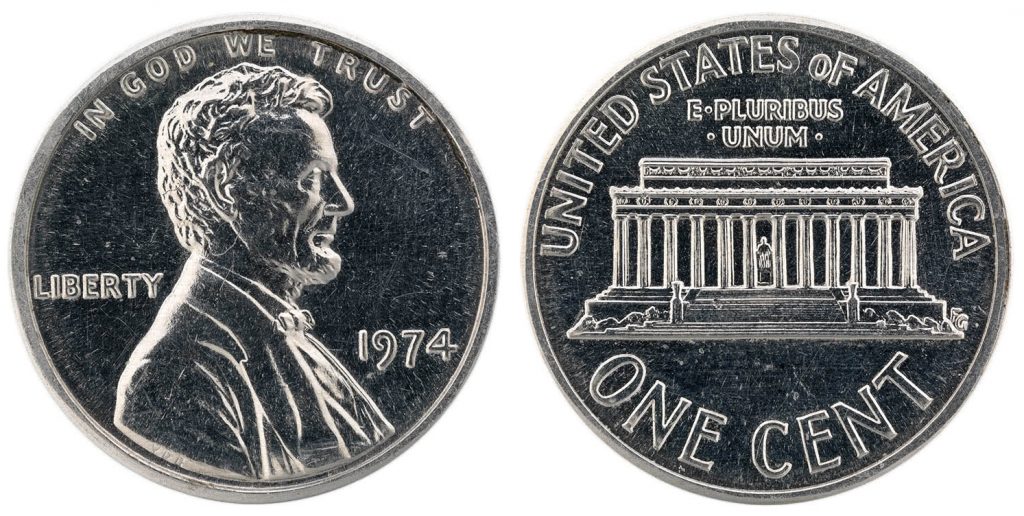 While this type of coin is younger than we generally accept as a criterion for "old" coin, it is very unique and this is the reason of its value. In 1970s, the cost of copper started to rise, and making pennies was as costly as making a cent. So the mints started experimenting and sent samples of aluminum pennies to the authoritative figures to get their opinion. Yet the pennies were never sent back.
1913 Liberty Head Nickel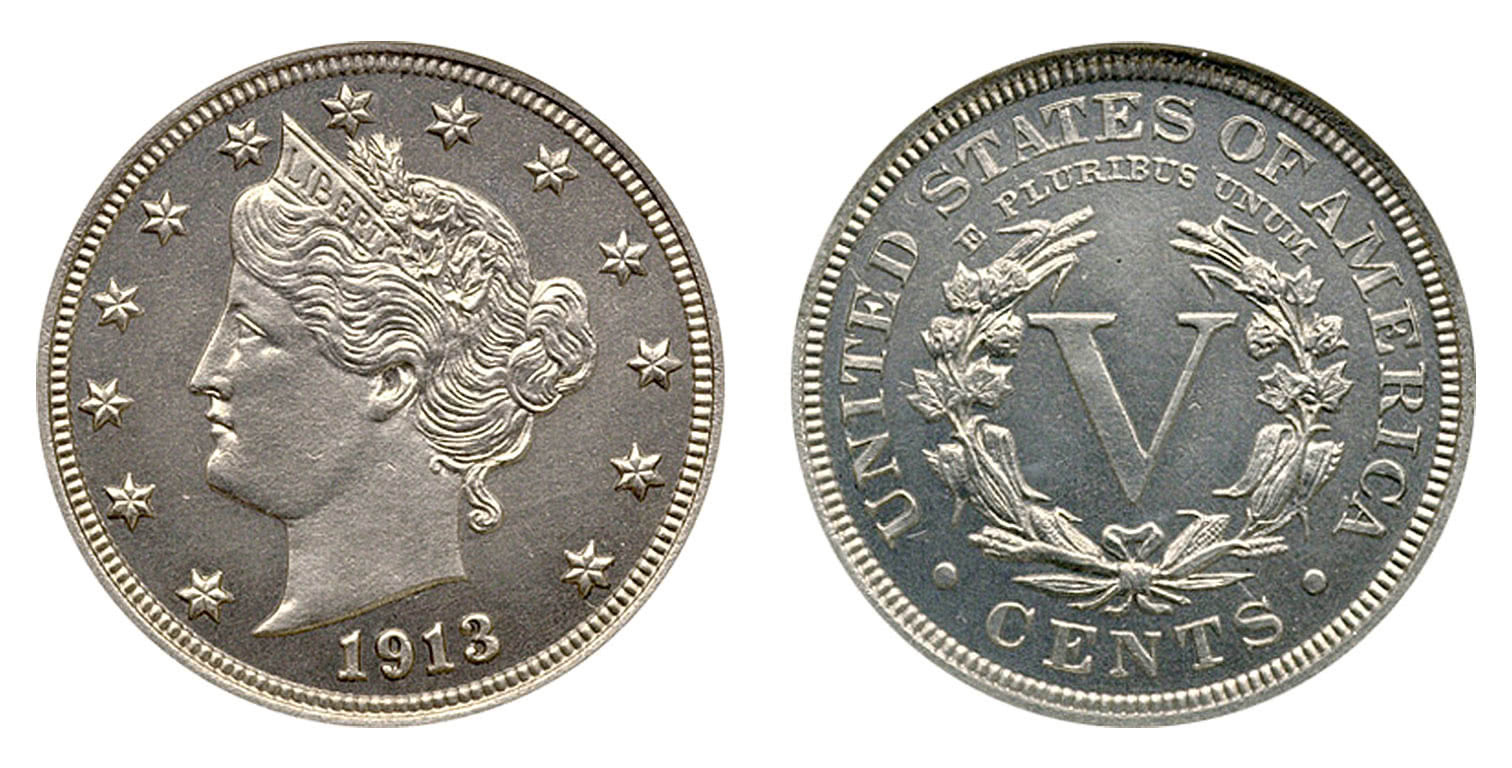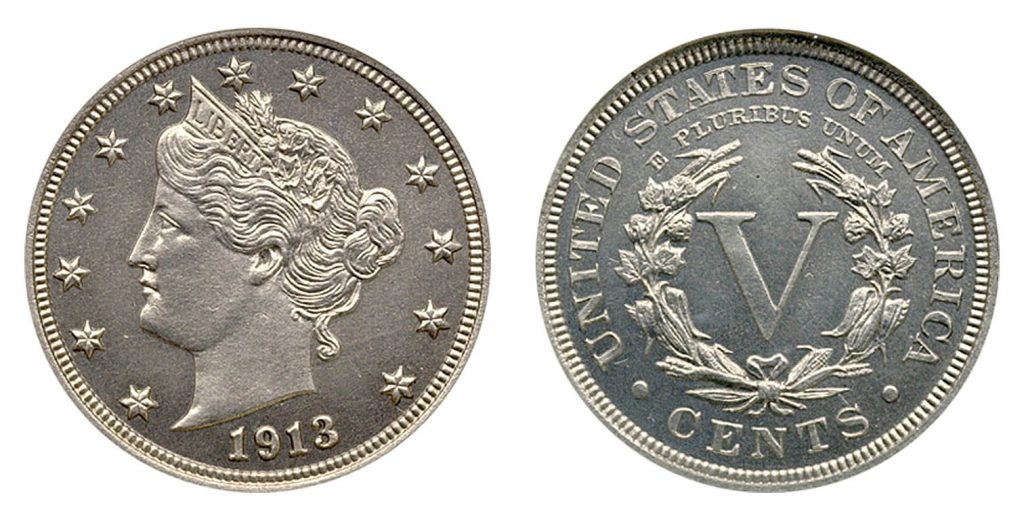 This type of coin is legendary, because, despite the fact they were withdrawn from commerce in 1912, in 1913 several more were struck. One collector gathered them all and rumoured that he had found one, not mentioning he had all five. Recently, one of these was assessed as having $3 million value.
Any Coin Dated 1870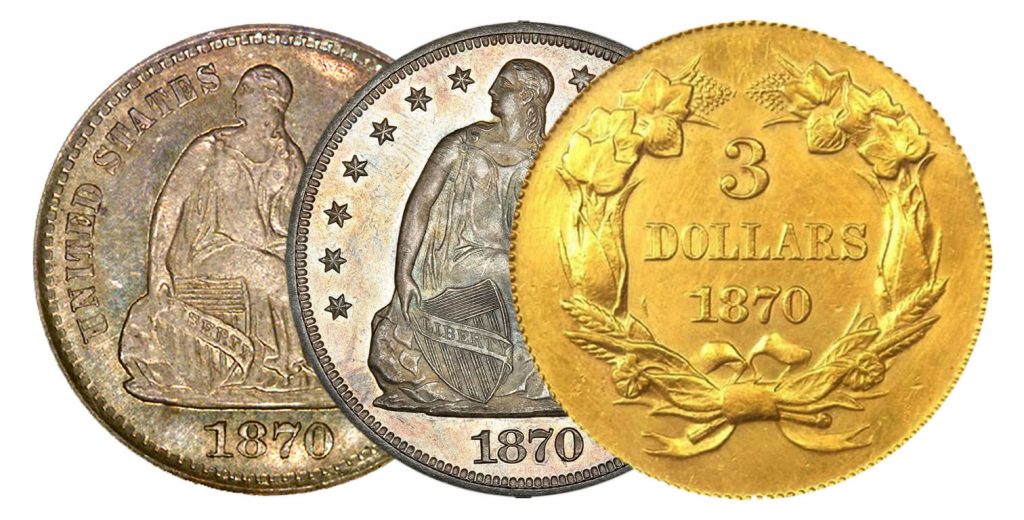 This is an interesting type of coins, as almost any one produced in 1870 in San Francisco is extremely rare. The point is, when a new mint started to be built in the city, it produced only several coins this year, and the majority of them were hidden in the cornerstone of the building.
1866 Silver Coin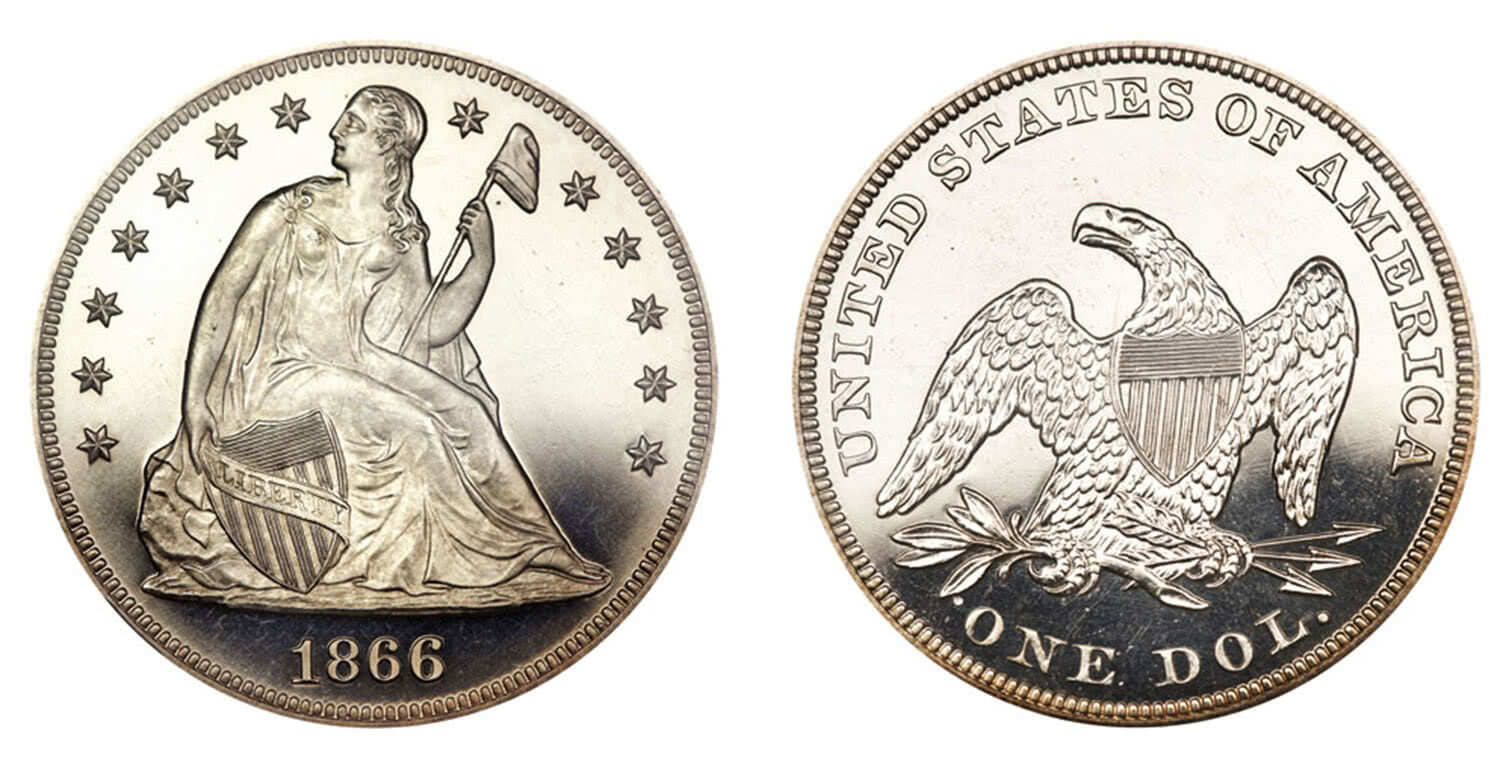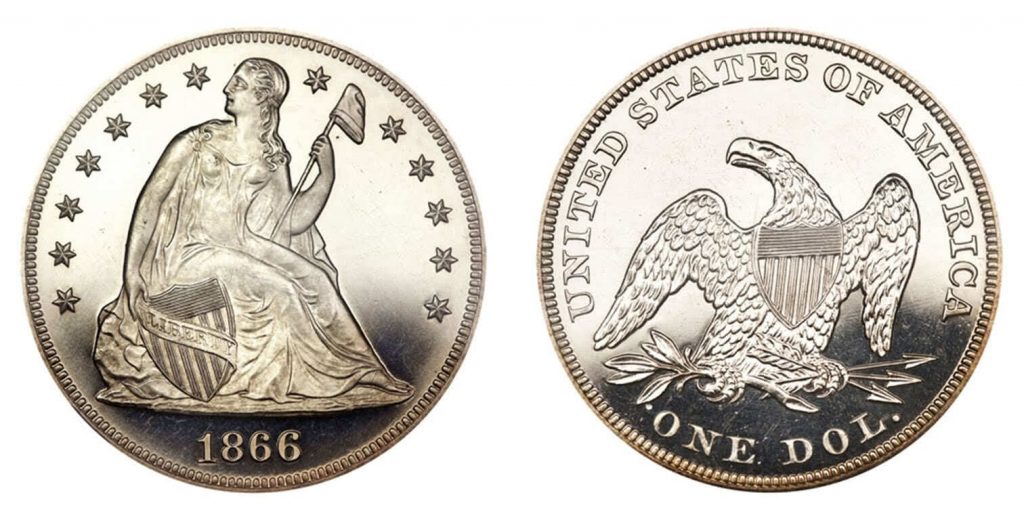 Some sources state that this coin was created upon a special order of a collector who was a friend of some mint executives. This is the only silver dollar created without the "In God We Trust" motto. Later it belonged to the DuPont family, and in 1967 it was stolen from the family. Only a few years later it was found again.
1776 Silver Continental Dollar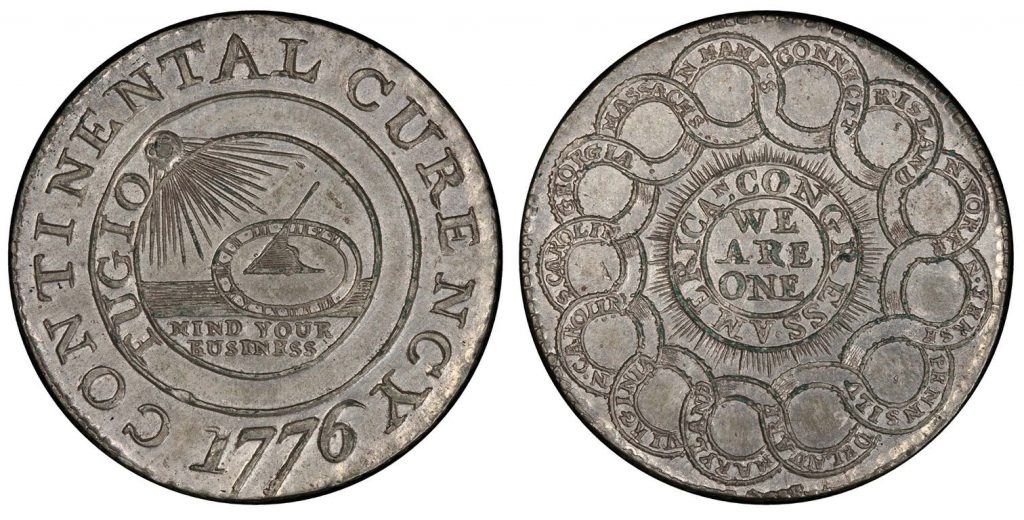 After the United States have signed the Declaration of Independence, the newly born country decided to make its own currency as a gesture of free choice and will. it is believed that the design of the coin was created totally by Benjamin Franklin. The majority of these coins were made of pewter, and there are several dozens of them existing until today. However, there is also a rare silver version that is very valuable.
1943 Copper Penny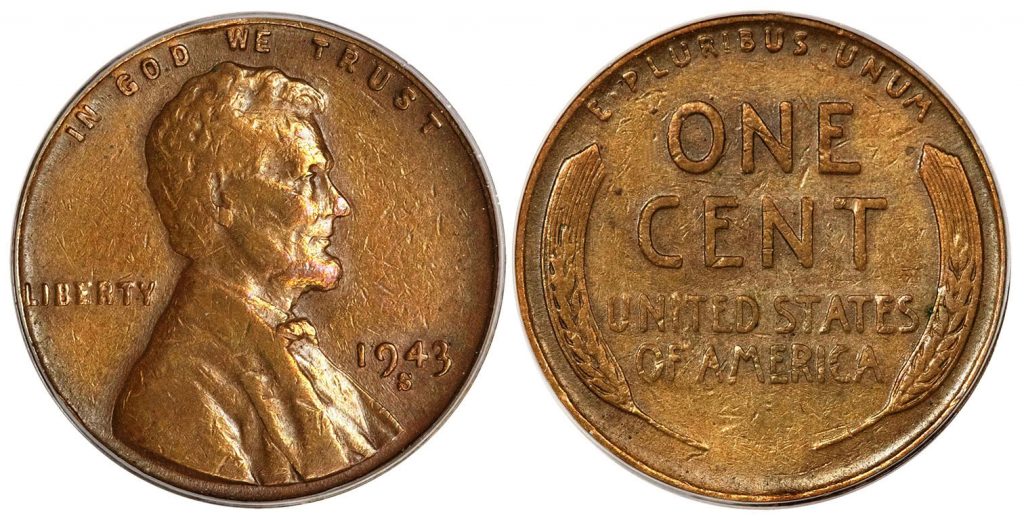 Copper was important for other industries during the war, so most pennies were made of copper alloy or brass-steel alloy. The latter type may be worth a healthy sum of money, if you are lucky enough to find one.
1794 Flowing Hair Dollar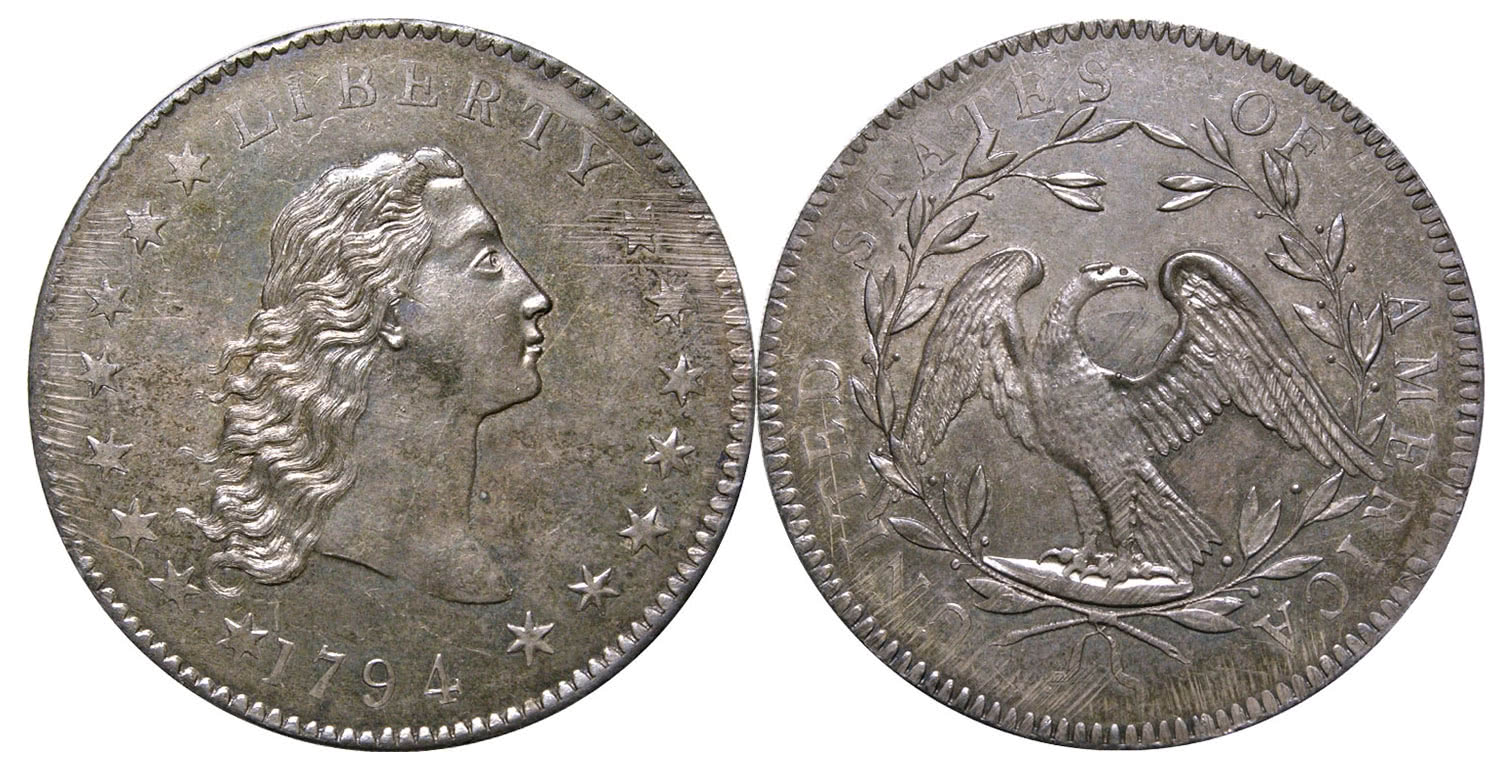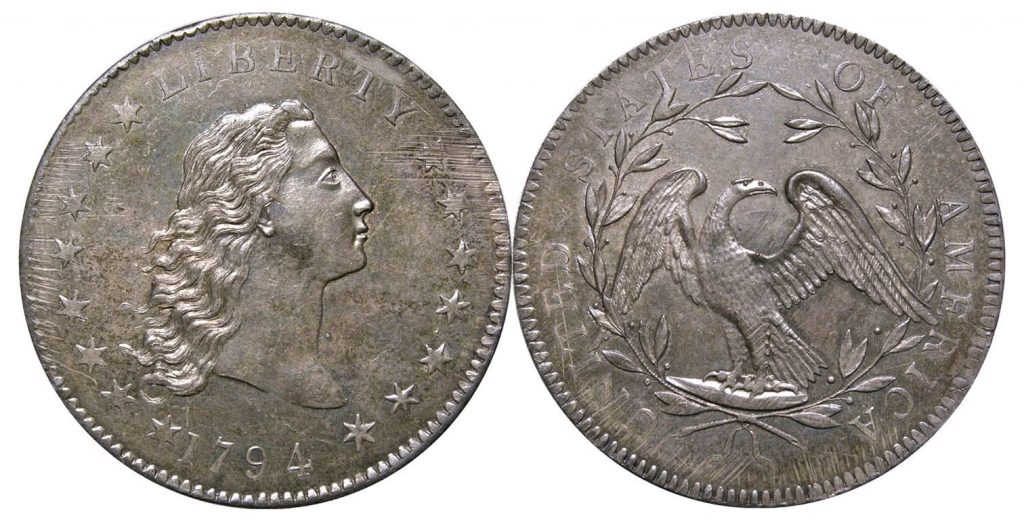 This silver dollar features the Bust of Liberty, and was designed after a popular Spanish dollar. Since the very beginning of its existence, this coin was considered the most rare and valuable one among all others. In 2013, one of the most beautiful coins of this type was sold for more than $10 million.
1933 Indian Head Gold Eagle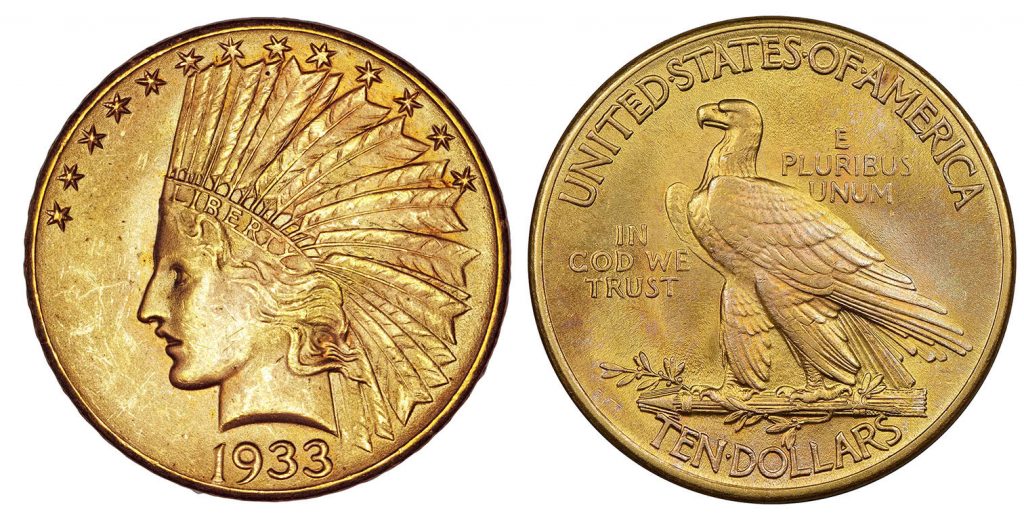 This incredibly beautiful gold coin is now worth about $600,000. There were a lot of these coins minted in 1933, so they were not supposed to be rare, but Roosevelt changed the gold standard in the US because of the Great Depression. The citizens were not allowed to keep more than a certain amount of golden coins then, so a lot of these beauties were melted for gold. Only few remained.
1817 Capped Bust Half Dollar
There were a lot of normal coins misted this year, but only those with a defect count as valuable. There are several defects that can be found: date 1817 over 1813 with 3 clearly visible under 7; date 1817 over 1814, with 4 clearly visible under 7; coins with a dot between 8 and 7, and single leaf variation which has only one leaf instead of two under the eagle's wing.
Morgan Dollar 1893 S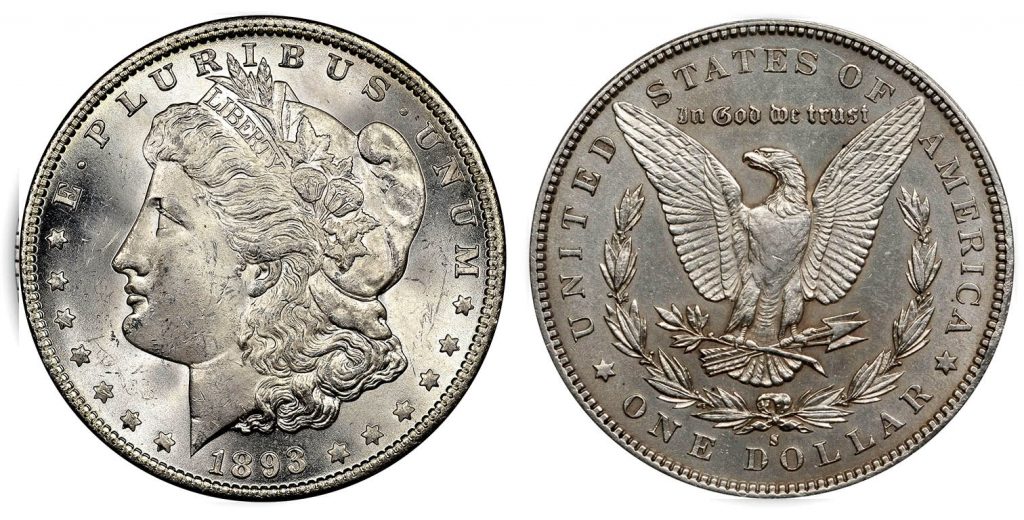 This coin is of the lowest mintage of any issue, which makes it pretty rare.
1901 Morgan Silver Dollar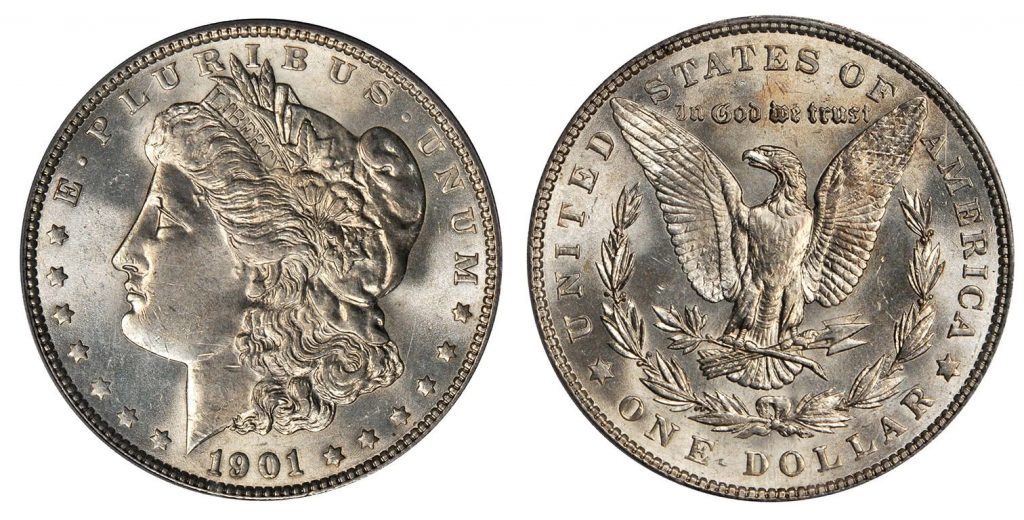 These were minted in Philadelphia, and the cleanest uncirculated versions are of the biggest value among the whole series.
Conclusion
Spotting and collecting (or selling) some rare coins is exciting and also profitable. The metal detectorists have to know how to identify the found coins and also how to clean them (and whether to clean at all). If you are into spotting coins, check out more useful information on the topic in the book