Minelab Equinox 800 Overview
Currently, it is fair to state that Equinox 800 by Minelab can offer the most adequate price to quality to technical specifications ratio compared to a bunch of other similar products on the market. In addition, it enjoys totally positive feedback from numerous buyers all around the world, plus experts also comments positively on the item. It all makes Equinox 800 a very attractive tool to buy.
The tool was created with application of the newest and groundbreaking technologies, sine this is a 2018 novelty. Technologies offered by Minelab in this model of the series made it one of the most popular and one of the best metal detectors in 2018 and 2019. Despite the fact that this model was recent on the market, it immediately started to enjoy trust from the customers and huge demand. This has probably happened firstly, because of the brand's positive reputation, and secondly, because of technical specifications provided in the item.
Equinox 800 is an all-terrain and all-purpose machine than shows a highly efficient and stable performance in any conditions. Users state that is shows the best results when searching for coins and relics, plus the tool is very efficient during the beach search.
New Features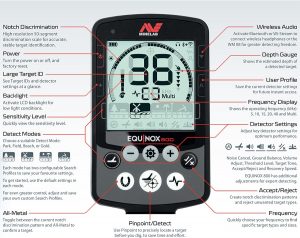 One of the most important features of Equinox 800 that has to be discussed separately in the Multi-IQ technology that allows the hunter to comb the location using Multi-frequency mode. In contrast to single-frequency machines (which are the majority on the market), Multi-frequency is a unique feature that means the machine can create coil field with all frequencies available at the same time. This enables the tool to comb the location with low, meduim, and high frequencies simultaneously, providing a much higher efficiency of metal detecting. Multi-frequency removes the necessity to check the same location several times with different frequencies out of fear to miss an important and valuable find. Talking particularly about Equinox 800, it has five single frequencies – 5, 10, 15, 20, and 40 kHz – plus the Multi-frequency mode using all those frequencies together.
Other cool features available in Equinox 800 are high quality discrimination of ferrous metals and trash, combined with considerable depth of reach. This machine is able to find both large and small objects on different depths.
And eventually, the tool is totally waterproof, its index of isolation is IP68, which allows the user to submerge it to the depth of up to 10 feet. Together with great discrimination and Multi-frequency stuff, the 800 model of the series becomes a perfect choice for underwater search.
Search Modes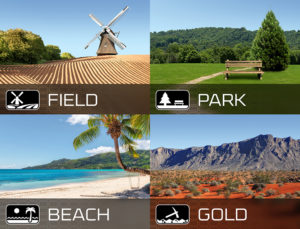 The instrument has four search modes, which may seem pretty few compared to other machines on the market. However, remember about the Multi-frequency thing that makes this model as variable as one can desire for such price. In addition, the model provides two customizable search regimes for each preset search mode. This means that eventually, the user gets 12 search modes, and this sounds much better than four, doesn't it?
Here are the preset regimes:
Field Mode. Ideal for detecting jewelry and artefacts. The use of "Multi-IQ" in this mode will help the user to find a target within the widest range of sizes.
Park Mode. Excellent performance in areas of recreation with a high amount of trash. The use of "Multi-IQ" mode is the most versatile for detecting coins and jewelry.
Beach Mode. Perfect if you need to search on dry sand, wet sand, or underwater. The beach mode works only in "Multi-IQ".
Gold Mode. Handy for finding gold nuggets. In this mode, high single frequency of 20 or 40 kHz. That's why this metal detector is one of the best for gold.
All Features
Multi-frequency. Real intelligent multi-frequency, simultaneous use of multiple frequencies to achieve maximum performance, as well as a wide range of single frequencies available for operation.
Waterproof design. Equinox can be submerged underwater completely, it is ideal to search at the beach, in rivers, streams, and lakes (3 m).
Durable and lightweight. A durable and lightweight design will allow you to enjoy long search sessions in any environment.
Compatible with high-speed wireless audio.Compatible with ultra fast wireless audio with WM 08 and fast aptX ™ headphones with low latency / Bluetooth.
8 search profiles.Each search mode has 2 custom search profiles, so you can save your favourite settings in each mode.
Fast and accurate identification of the target. High recovery rate, coupled with accurate identification, ensures that you do not miss a valuable item in the trash.
Advanced settings. Increase control over the sound of your metal detector with additional settings; only you determine how much information about the target you will hear.
Gold search mode.This mode manages a high single frequency of 20 kHz or 40 kHz for effective search of gold nuggets in mineralized soils.
User profile button for fast mode switching
Noise cancellation – Automatic or Manual
Ground Balance – Automatic or Manual
Sensitivity – from 1 to 25
Target Volume, Threshold level & Threshold pitch – from 0 to 25
5 levels of depth indication
DD 11 inches coil
Monochrome LCD display
Adjustable backlight
Inbuilt rechargeable battery, battery life is around 12 hours
IP68 waterproof
Upgradable software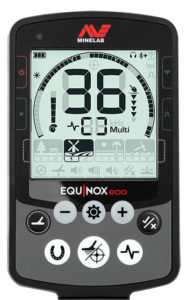 Controls and screen: A clear LCD display with large digits of VDI is visual and convenient, so you'll be able to see all the information you need to search, right on the screen. Search modes and the operating frequency can be changed instantly by pressing the dynamic and continuous detection.
You can:
View the charging status of your battery and wireless audio device.
Create your own mask patterns of selection, to ignore unwanted targets.
To change the operating frequency, mode and search sensitivity on the go.
Activate "all metals" mode to temporarily disable the active mask of selection.
Activate pinpoint mode to know exactly where to dig.
Adjust a host of basic and advanced features including noise reduction, ground balance, volume control, threshold tone level, key tone, receive/reject, and recovery speed.
Multi-IQ Technology

Multi-IQ technology is Simultaneous Multi-Frequency In-phase and Quadrature Synchronous Demodulation. This technology enables the tool to use all frequencies available for the coil, at the same time, thus creating a multi-frequency field piercing the ground. Lower frequencies reach deeper and locate larger items, while higher frequencies search closer to the surface and spot smaller items.
The main benefit of the Multi-frequency is, firstly, an eliminated necessity to comb the location several times switching the frequencies, out of fear to miss a valuable target, and secondly, enhanced stability of performance. The point is, highly littered and highly-mineralized soils interfere with the field of the coil, impacting its ability to spot objects efficiently, or distorting the indications. With Multi-frequency applied, weaker performance due to frequencies under the impact of soil mineralization is compensated by those frequencies that continue to operate well. This means that the tool does not lose it depth and sensitivity, and gains in stability of operation.
Sometimes, a single metal detecting machine with the option of multi-frequency provides more variability than several machines, or several replaceable coils for a machine, because it uses a number of frequencies simultaneously.
Pros And Cons
As any other product in the metal detecting niche, Equinox 800 has its pros and cons each potential buyer has to be aware of. So, here are the pros:
Pros
Multi-IQ technology plus five single frequencies
eight customizable search modes in addition to four preset regimes
lightweight (3 lbs)
DD 11 inches coil
waterproof (IP68) and submersible to 10 feet
3 years warranty
software can be upgraded
wireless headphones
High Speed and Accurate target ID
Most settings can be manually adjusted
"Gold" detecting mode specifically for nuggets
Cons
inbuilt battery
comparatively short battery life
price is higher than average
the settings may be too difficult to manage for a beginner
Equinox 800 offers a bunch of really great features and adjustable tuning to make this all-terrain all-purpose metal detector truly universal and as versatile as possible. It has few drawbacks, the most important of which is this machine is not very suitable for beginner hunters, since the learning curve is likely to be too steep for a newbie. Yet, in the hands of a more experienced seeker, this machine is likely to show very productive performance.
The Kit
Metal detector.
Wireless headphones.
Wireless module WM 08*.
USB charging cable with magnetic connector.
Protective covers for a screen with inscriptions in different languages.
User manual.
Additional accessories and spare parts are also available
*Equinox wireless headphones 800 wireless Module WM-08 USB Charging cable with magnetic connector. Protective cover for the screen of the user's Guide.

5 kHz / 10 kHz / 15 kHz/ 20 kHz / 40 kHz + Multi
6 Search Modes
11" DD Coil
Minelab Equinox Software Update 2019
New Minelab Equinox 600 and 800 software has already been finished and tested. This was an expected event, since there are certain bugs and glitches in the initial version of the software. On the other hand, it is yet unclear whether current owners of the 600 and 800 machines should bother with downloading the upgraded software.
Now, when the software is upgraded, all new Minelab Equinox 600 and 800 metal detectors will be released with the updated version (starting from October 2019). Devices with version 1.0 that were left in storage will also be updated by the manufacturer.
If you own one of those metal detectors, it is totally up to you. You can download the new version and update the device if you want to.
What's The Upgrade About?
The foremost task of this update is to fix the bugs in the previous program. It is unclear whether all the actual glitches were addressed – perhaps the company left some room for software version 3.0.
Now, the actual changes are as follows.
After the upgrade, Minelab Equinox 600 will have an adequately backlit display, and the level of brightness can be tuned from the lowest to the brightest. This might actually be helpful, since backlit display is annoying if cannot be regulated.
The second considerable chance is a better feature of Ferrous metals indication. With this feature, the metal detectorists will be able to identify ferrous metals better, and differentiate between worthy and unworthy objects more comprehensively.
Objects containing iron are pain in the ass for all treasure hunters, so little surprise Minelab decided to target this problem specifically while upgrading their new metal detectors' software. Hopefully, this works.
How To Update The Machine?
To update software on already purchased Minelab Equinox, one needs Internet connection and PC. The metal detector should be connected to the PC via USB. The upgraded software can be downloaded and processed using Minelab Update Utility program.
First of all, you have to download the MUU. Next, connect the metal detector to your PC via USB cable.
Turn the metal detector on, with its attached on as well.
The MUU has to recognize your metal detector and identify the software version.
In case you are eligible for the update, the program will tell you so. Press "Install" to download version 2.0.
To download and install new software, you will need around a minute or so. When installation is complete, the metal detector should
reload automatically. After that, MUU will inform you that the process was successful, and you will be able to switch it off.
Please keep in mind that you can't update more than one metal detector at a time. Do not turn on, or disconnect the metal detector from PC during the installation. If you have custom settings, they will not be affected by the update.
This is the main info on upgraded software for Minelab Equinox 600 and 800. To find out more about it, we will have to wait for more feedback from detectorists around the world.
Minelab Equinox Coils and Accessories Review
For owners of one of the machines from the Equinox series by Minelab there are many accessories and coils available for enhanced user experience. Minelab Equinox coils will provide the user with versatility and functionality without the need to invest into another metal detecting device. Minelab Equinox 800 coils will add functionality, flexibility and additional features to the same device (by the way, you can check out the Minelab Equinox 800 review here). Equinox coils cost less than another full-fledged metal detector, and yet buying one or several for spare parts or for enhanced experience is a very smart move.
Having a spare coil is wise because you may face the problem of glitches or coil damage right on the location. Accessories, in their turn, help to improve user experience, keep the device protected, and make operation more convenient.
Minelab Equinox Coils
While Minelab Equinox series offers high quality product for metal detecting, the user will always benefit from additional frequencies and features provided by the coil. Instead of purchasing another machine, though, it makes sense to buy a spare standard coil and maybe one or two additional ones, for wider possibilities during the treasure hunting. The point is, sooner or later each detectorists strikes a complicated location where very specific technical characteristics are needed for successful search. This is exactly where additional coils come in handy. Also keep in mind that Minelab provides original protective cases for all search coils, so no worries about potential damage.
EQX 06 Double-D Smart Coil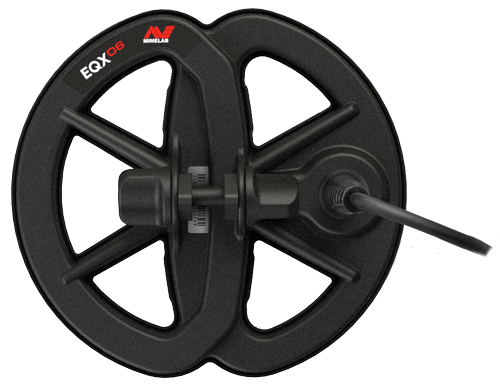 This item is six inches in diameter and weights 300 g. The Minelab 6″ DD Smart Coil is waterproof and shows extraordinary sensitivity to small objects, especially during shallow search. It is able to comb highly trashed locations very carefully, and provides seamless performance even on complicated locations.
EQX 11 Double-D Smart Coil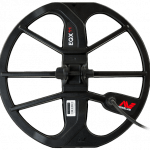 This 11 inches item weights 510 grams together with protective skid plate. This Minelab 11″ DD Smart Coil is very good for general search, as it smartly balances weight, level of sensitivity, and ground coverage. This is a good option for a spare coil. It is also waterproof so underwater search or wet beach treasure hunting are not a problem.
EQX 15 Double-D Smart Coil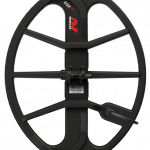 This coil is elliptical, with size of 15 x 12 inches. Also DD waterproof type. Minelab 15″ DD Smart Coil is the heaviest from the whole series, weighting 600 g, but it provides incredibly thorough and accurate combing combined with wide ground coverage. Best functionality is guaranteed in open space locations. The item offers great depth of reach as well.
Minelab Equinox Accessories
There is also a bunch of accessories available for the Equinox series by Minelab. These include:
A lot of stuff to choose from for enhanced user experience
Differences Between Equinox 800 and Equinox 600
How much are Minelab Equinox 600 and Equinox 800 different from each other? Is there a factual difference between them? Does it make sense to buy a more affordable or a more expensive model of the series?
The differences can be divided into two aspects: different features and different equipment.

Title
Equinox 600
Equinox 800
The Kit Differences
Headphones
3.5 Jack Wired Headphones
Wireless Headphones
WM 08 Module
Not Included (Compatible)
Included
USB Charging Cable
Yes
Yes
Features Differences
Number of Operating Frequencies
3 frequencies:
5, 10, 15 kHz + Multi Mode
5 frequencies:
5, 10, 15, 20, 40 kHz + Multi Mode
Switch to Custom Mode Button
No
Yes
Threshold
Not Adjustable
Adjustable
Noise Reduction
Not Adjustable
Adjustable
"Gold" Search Mode
No
Yes
Response Sime
3 Speeds
8 Speeds
Advanced Audio Capabilities
Not Adjustable
Adjustable
Adjustable Backlight
Two Modes: On/Off
Adjustable
Obviously, the two models within one series have certain differences than make one more affordable and more noob-friendly, while the other is stuffed with more variability in settings, requires more expertise and is more expensive. However, there are some basic specs that unite the two products and promise high performance by both.
Summary
Minelab Equinox 800 is currently one of the most frequently bought metal detectors on the market, and obviously for a good reason – or rather a bunch of reasons. In addition to providing the Multi-frequency technology, it has a considerable amount of additional settings, making it tunable and customizable for almost any locations and search conditions. Those treasure hunters who has enough expertise to make head or tail of all the manual settings will be able to immediately take advantage of this outstanding machine.
Top 3 Main Competitors
XP Deus

Garrett AT Max

Nokta Makro Anfibio Multi

Useful Tips