XP ORX Overview
ORX is a new model and has been presented to the market quite recently. However, its specifications and features already make interested detectorists believe it makes a good competition to the old but mighty Deus. The exact price is yet not clear, and the device is not yet available for purchase on the majority of platforms, but is expected to be free for sale in the first half of 2019. As for the price – look at its features and you will understand this item will not be cheap. However, we'll see later. Perhaps it will be totally worth the money.
Currently, the whole metal detecting community globally searches for more information on the product. Some experienced seekers express doubt that this model will be better for search in general, and for gold prospecting in particular, than the great Deus which offers incredible flexibility and variations for any type of search. On the other hand, XP has already proved its ability to make some cool stuff, so maybe a new product shows even better features.
Since currently there is no users' feedback on the item, we can discuss its specifications and features, analyze the settings and suggest the value for metal detecting.
Difference Between XP ORX and XP Deus
One of the main differences between the old and well-known giant in the field of metal detecting is the fact that ORX has a special set of programs specifically for gold prospecting. However, what are other differences and similarities between Deus and ORX?
XP Deus

If one analyzes all the data about the new machine, it becomes clear that ORX will be fully compatible with all new coils, pinpointers and software. In contrast to Deus, the new item has a more simplified menu navigation, and the user experience should be easier, as well as the learning curve (however, it depends – we still cannot check the machine out in the field). The products claims to have a better iron discrimination due to special settings.
Almost similar to the older brother, ORX is very light, easy to carry and to transport. The design is superb, and this is a must in 2019 when each and every manufacturer tries to make their products as light and ergonomic as possible.
Contrasted to Deus, the new tool will not have automatic ground balance and audio response, but experienced detectorists can live with that. Tones and pitch are not adjustable either. There are also no notches.
It is rather hard to compare the two devices without one being fully tested by users. Perhaps we should wait and see how it actually functions.
New Interesting Features
There are many improvements and new features the users will be able to enjoy with XP ORX machine. The first aspect that draws attention immediately is lighter and more convenient shaft, which is lighter than in Deus. The next novelty is improved wireless headphones that are very easy to turn on and tune. You won't be able to use them for Deus, but the ones for Deus are compatible with ORX.
There are several coils that can be used for the new model. The user can choose what coil to add to the kit. Next, the manufacturer promises to release a new software application for both operational systems, and the app is likely to be available for download already in 2019.
The following features of the detector are also pretty impressive. It has 99 sensitivity levels, and this is enough to make it stand out. 21 operating frequencies (one at a time) is also a huge benefit. They make the machine very flexible and allow the user to search in a variety of different conditions. 99 levels of discrimination, topped with 5 special discrimination modes for gold prospecting are everything a gold digger can desire.
Other numbers are 20 threshold levels and 4 reactivity levels. The rejection levels of salt soils include range from 00 to 25. There are six search programs, four of which are preset and two of which can be customized by the user.
The frequencies alone make this machine extremely suitable for gold search and also for beach search. All this cool stuff with lots of sensitivity and discrimination levels turn this metal detector into super-tunable, super-identifying instrument that does not only searches and finds, but also tells you what it is, what it looks like, and where is it located. It seems that the only thing ORX can't do is dig the object out itself. Maybe the developers will make a separate app for that soon?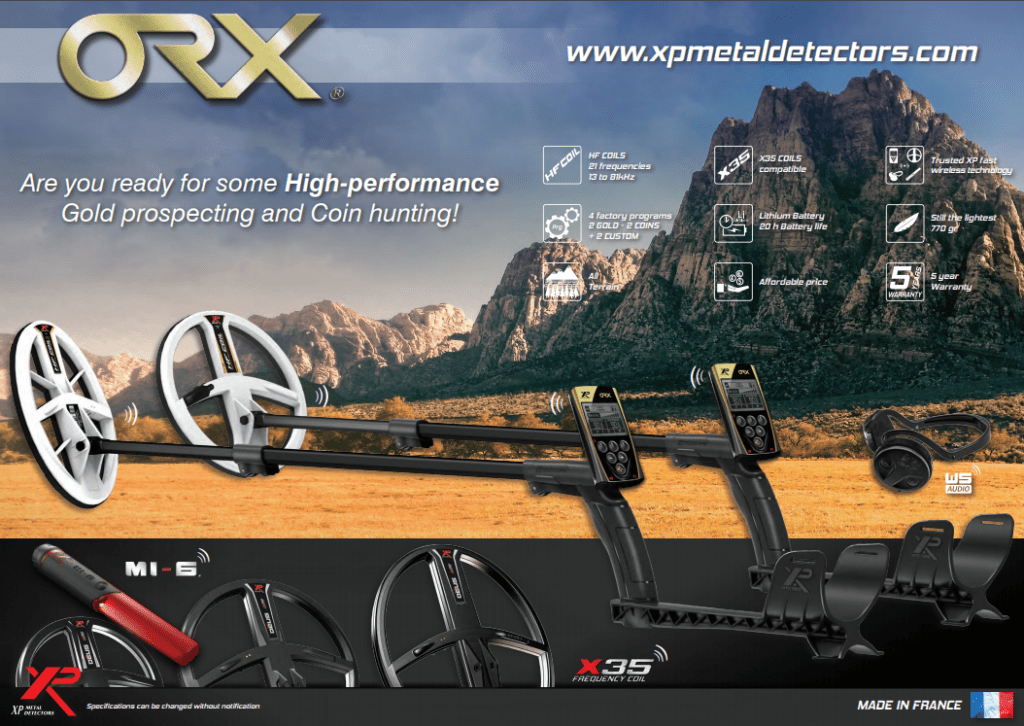 The Drawback
There is only one very serious drawback that we can see in this innovative machine. According to its technical specifications, ORX should be incredibly suitable for seashore search. However, guess what. It is not waterproof.
Not waterproof, Karl! Surprise! How in the world a machine that has the most unbelievable set of features and specs and should be perfect for gold prospecting on the beach is not isolated from water? It is not even IP 68. Today, in 2019, even child half-toy metal detectors are at least partially isolated from water, but this monster is not! We just can't believe it.
Of course, one may say that isolation from water is not obligatory for a machine that was created with gold prospecting in mind. Now, tell us gold can't be in shallow waters, in freshwater rivers and streams, or trivially on the beach where swimmers drop their jewelry. What about rainy weather? Should the seeker pack their things and leave as soon as they enter a foggy location? Yeah ok right, they have a protective cover for the control box – and that's it! Seriously?
Features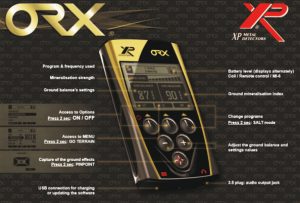 To get a deeper understanding of the ORX device, check out all the features and specs. As it has already been said, there are 21 frequencies available. The item does very well with small targets due to its supreme sensitivity. It also has adopted the superb wireless technology that earlier made Deus the leading model on the market.
The item boasts ultra-light telescopic shaft that is lighter than in its older brother. The user is promised improved user experience and comfort. The shaft is perfectly balanced. The whole thing weighs less than 3 pounds, becoming super advanced, but super light product in the niche (before, the condition generally was the more features, the more the weight).
Interface is also improved and simplified, making the instrument more noob-friendly. There is a bunch of stuff that is compatible with the tool including pinpointer and coils. The thing is powered with lithium batteries, and the promised battery life is 20 hours. This is pretty good, considering that in some machines we are given seven (lol. seven hours).
Two ways for charging – via charger or via computer. The software is eligible for update (the same story as with Deus). In 2019, a special application will be released (hopefully), making the whole user experience and convenience push the bar even higher. The French manufacturer gives 5 years warranty for its product, promising absolutely smooth performance. The machine is literally stuffed with settings and tuning, the range of settings for each aspect is impressive and enables the user to set the most optimal modes for any conditions imaginable.
The only showstopper is obviously lack of waterproof isolation, and the reason why is not clear. Maybe the developers left some room for making a separate waterproof model for gold prospecting.
The price of this item is not small, but let's be honest, it is proportional to what it promises to do.
Search Modes
There are four search modes on the ORX product. They are:
Gold – generally for gold search, suitable when you are looking for bigger nuggets
Fine Gold – perfect to seek for gold flakes or sand
Coin Fast – a mode with clean and fast recovery, ideal to search for coins
Coin Deep – very good mode to spot coins on larger depth, the only condition is soils without litter.
The set of modes is a bit unusual, but this is due to the fact that the product was specifically designed for gold and coin hunting.
Pros and Cons
It is a complicated task to identify clear pros and cons when we discuss such a powerful and promising tool as ORX, especially considering that the manufacturers have already given the world their mighty Deus. Also, it is hard to assess the machine while it is still not available for purchase, and only specifications are known. However, there are some aspects that we actually can assess, basing on specifications shown to us.
XP ORX

Pros:
to avoid listing all tons of settings and variations, let's just state that the device is stuffed with a range of settings for each aspect, like discrimination, sensitivity, etc.
specially made for gold prospecting
21 frequencies available.
a lot of accessories that are compatible can be purchased for better user experience
new design of the shaft
20 hours battery life
software can be updated
Cons:
price. The price is already known and it is not small. However, the device promises to be very efficient, so this is only half of a con.
to water isolation. This is incredible, but in 2019 the device that was made as an enhanced version of another top machine is not submersible. This is a serious drawback that should be taken into consideration.
Overall, the advantages and disadvantages of the tool will be easier to assess when more feedback from real users is available.
The Kit
The kit includes the following items:
metal detector
search coil
coil cover
wireless headphones
spare ear pads for headphone
user's manual
ultra-light stem
coil hardware – two sets
USB upgrade cable
USB charging cable
armrest strap
USB charging clip
coil cable pull
plastic protection film for display
display remote
Summary
ORX is promised as a newer and more contemporary device made on the basis of the globally loved Deus. The new tool is specially created for gold prospecting, and it full of cool and advanced features that will enable the user to tune the machine as accurately as possible, for almost any location and condition. There are two major drawbacks, though – lack of adequate amount of feedback from real users, and the fact that this model is not submersible. Of course, isolation from water is not obligatory for gold seeking, but what about seashores and beaches? All this makes ORX powerful and promising, but a bit contradictory device.
Top 3 Main Competitors
Minelab Equinox 800

Nokta Makro Anfibio Multi

Garrett AT Max