Nokta Makro Simplex+ Overview
To give you a very rough idea about the new device – Nokta Makro Simplex+ is promised to be cheap (comparatively, of course, but still), both for ground and water search, and very easy to operate. Plus, it is compatible with wireless headphones, and has a DD coil in the kit.
The manufacturer claims that this is the first machine in the noob segment of the market that contains advanced features. Which means this is an overhaul of the niche, meaning that more "expensive" technologies can in fact be packed into a more affordable device. Keep in mind that the machine is also completely waterproof – there is no other fully waterproof metal detector available for such price.
If you want some insider info, Quest takes Nokta Makro as example and want to offer their own models of cheap waterproof machines. Funny, but Minelab raves and storms about this, since they also wanted to release similar models (Minelab Vanquish), but smaller competitors outstriped them. This is the main reason why Minelab urgently released Minelab Go-Find 11 for the price of a pinpointer ($99), to carve out at least a piece of the potential market.
So yeah, Nokta Simplex made a splash before it was even released, and now it takes the market by storm.
New Features
Nokta Simplex

Nokta Simplex is a compact machine, totally waterproof and can be used on the depth of up to 10 feet. The shaft is collapsible, and the whole thing weighs only 1.3 kgs/ 2.8 lbs. The device supports wireless headphones, which is a huge benefit for newbie detectorists.
The main frequency – 12 kHz – is an unusual one, because it provides a delicate balance on the brink of most popular frequencies, allowing the user to search for a wider range of metals. Most budget-friendly detectors have either lower or higher frequencies than that.
The thing has vibration, which is a very useful regimen for any user, for example, in public places, or under water. While vibration is not something supernaturally advanced, it is usually absent in budget-friendly machines.
To complement the 11 inch DD coil included into the kit, you can also buy a bunch of other coils compatible. This is a novelty for cheaper detectors, as well.
The machine is powered by rechargeable LiPo battery – you can appreciate the ergonomics and lightweightedness now, considering that the battery is built-in! Plus you get a LED flashlight.
As you can see, while there are no specifically groundbreaking innovations included into the thing, the features it combines for the price it costs make this metal detector a wanted one. If you want to know WHY – well, there is no catch. The point is, Nokta is a Turkish company, and they have more affordable resources to make the products; as a result, you get same high quality for smaller price. Very simple.
All Features
Okay, let's hit the peaks and skip the valleys to check out all feats of the new machine:
single frequency VLF
operating frequency is 12 kHz
pinpoint mode
waterproof (10 feet depth)
powered by Lithium-Polymer battery (2300mAh, built-in, rechargeable)
supports wireless headphones
has vibration mode included
the shaft is collapsible (25-52 inches)
compact structure
lightweight – 2.8 lbs
11 inches DD coil included into the kit
other coils are compatible
software is updatable online
has LED flashlight
backlit screen and controls
has 4 search modes
auto ground tracking
0-99 target ID
notch discrimination is available
adjustable ferrous metals volume
volume is adjustable
3 audio tones
depth indicator
sensitivity is adjustable
6 levels of sensitivity
frequency shift is available to avoid false signals due to electrical interference
2 years warranty
Honestly, to have all these features packed into a small and lightweight machine not costing an arm and a leg. Now it is clear why Minelab are with foam at the mouth right now.
Search Modes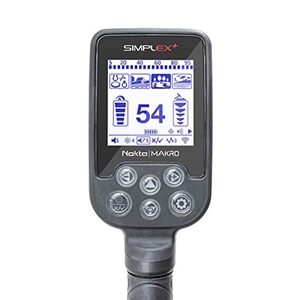 Let's talk search modes, because here we have a surprise from Nokta Makro, as well. The Nokta Makro Simplex+ machine has only four modes, seemingly pretty basic – Park, Field, All Metal, and Beach.
It is pretty clear about the first three. However, the Beach mode is adapted for Saltwater search, and this is incredible. In other words, you will be able to hunt with thing machine on the river banks (wet sand, fresh water), on the beach (wet sand, salt water), and in both fresh- and saltwater bodies, on depth! This is a wow, really. Well done Nokta.
Pros and Cons
In order to assess the new machine properly, one should be aware of both pros and cons. The features speak for themselves clear enough, so other obvious pros include:
affordable price (high quality, low price combination is killing)
suitable for noobs (the learning curve is not very steep)
saltwater beach search mode (just could not but mention this again)
The cons include:
has not been tested by many users yet
only one frequency (this is a very arguable con)
After the machine is tested by actual treasure hunter experts, it will be possible to assess it more objectively. Yet, even if it fails to meet all the expectations, this daring try by Nokta/Makro opens new, very promising horizons in the industry.
The Kit
The basic kit includes as follows:
system box
shaft
11 inches DD coil, waterproof
coil cover
USB charging cable
headphones adapter
charger adapter
wireless headphones (in some kits)
user manual
warranty certificate
Conclusion
The features and price of the Nokta Makro Simplex+ speak for themselves, and even without being tested abundantly in the field, the model already caused a nice little storm in a teapot. It threatens to become a serious competition to Minelab, Garrett, and other leaders in the niche of newbie metal detectors. We will see how it all goes and will keep you updated.
Top 3 Main Competitors
Garrett ACE 400 (400i)

Fisher F44

Whites Treasure Master