Nokta Makro Simplex+ Overview
To give you a very rough idea about the new metal detector – Nokta Makro Simplex is a cheap (comparatively, of course, but still), both for ground and water search, and very easy to operate. Plus, it is compatible with wireless headphones, and has a DD coil in the kit.
The manufacturer claims that this is the first machine in the noob segment of the market that contains advanced features. Which means this is an overhaul of the niche, meaning that more "expensive" technologies can in fact be packed into a more affordable device. Keep in mind that the machine is also completely waterproof – there is no other fully waterproof metal detector available for such price.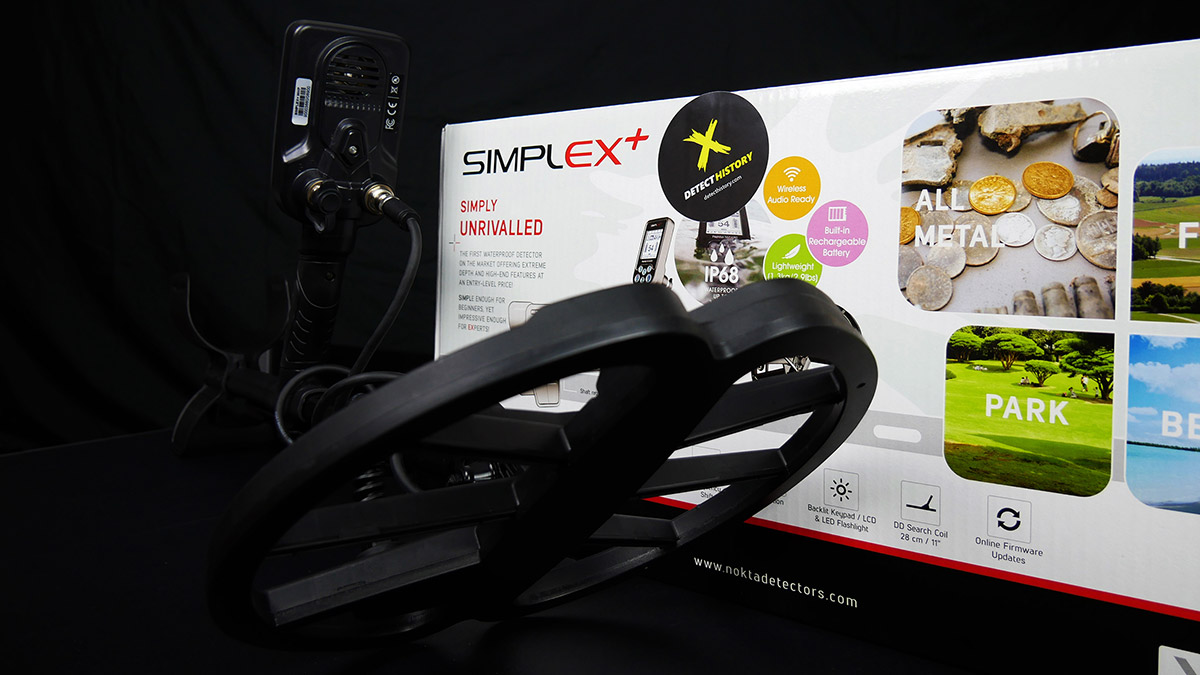 First and foremost, let's pay attention to the design and structure of the detector. It has a rubber-treated handle which is pretty comfortable, both not too rough and not too soft. Next you get a standard armrest which can be suited according to your convenience, all you need to do is unscrew three screws and move the armrest as you find comfortable. The best thing about armrest is that is it made of two parts, the upper one is softer, while the lower one is harder. This construction prevents the armrest from cracking if you press too hard on it.
The other side of this part has flashlight, and is equipped with two outlets. The metal detector can be charged using any of these two outlets, but in fact one of them is for connection with the coil, while the other has a leak-proof cover and fits for wired headphones.
So yeah, already due to its well-designed structure Nokta Simplex made a splash before it was even released, and now it takes the market by storm.
What are the Most Important Features to Pay Attention To?
Nokta Makro Simplex

Nokta Simplex is a compact machine, totally waterproof and can be used on the depth of up to 10 feet. The shaft is collapsible, and the whole thing weighs only 1.3 kgs/ 2.8 lbs. The device supports wireless headphones, which is a huge benefit for newbie detectorists.
The main frequency – 12 kHz – is an unusual one, because it provides a delicate balance on the brink of most popular frequencies, allowing the user to search for a wider range of metals. Most budget-friendly detectors have either lower frequencies than that.
One of the most valuable Simplex features is automatic and manual ground balance. If I remember correctly, only Quest detectors have a ground balance feature in the entry-level segment of metal detectors, but it doesn't work so good.
To complement the 11 inch DD coil included into the kit, you can also buy a bunch of other coils compatible. This is a novelty for cheaper detectors, as well.
The machine is powered by rechargeable LiPo battery – you can appreciate the ergonomics and lightweightedness now, considering that the battery is built-in! Plus you get a LED flashlight.
Vibration feature, which is a very useful regimen for any user, for example, in public places, or underwater. While vibration is not something supernaturally advanced, it is usually absent in budget-friendly machines.
As you can see, while there are no specifically groundbreaking innovations included into the thing, the features it combines for the price it costs make this metal detector a wanted one. If you want to know WHY – well, there is no catch. The point is, Nokta is a Turkish company, and they have more affordable resources to make the products; as a result, you get same high quality for smaller price. Very simple.
All Features
Okay, let's hit the peaks and skip the valleys to check out all feats of the new machine. One more time about frequency in detail: It operates using single 12 kHz VLF frequency. This frequency is optimal for the majority of detecting tasks, and is also extremely convenient for newbie treasure hunters, allowing them to search efficiently at most locations. Moreover, frequency shift option is available to avoid phantom signals from radiointerference. The machine supports pinpoint mode, which is definitely an advantage. There are four preset search modes.
The shaft of the detector is compact and collapsible – you can not only suit it for people of different height, but also collapse it for transportation. The device is very lightweight, only 2.8 lbs, enabling even teenagers or women to treasure hunt effectively.
Simplex+ is waterproof and can be used underwater on the depth of up to 10 feet. Logically enough, it supports wireless headphones. Also, vibration mode is available, which is extremely cool when you're underwater. Vibration mode instead of audio signal is also handy in places where you do not want to make much noise.
The whole thing is powered by Lithium-Polymer battery (2300mAh, built-in, rechargeable) with 12 hours battery life. The coil in the kit is 11 inches DD one, but a set of other compatible coils by the manufacturer can be purchased. All software is updatable online.
The control unit is equipped with a LED flashlight. The screen and controls are backlit, you can make the light more or less intensive, or leave it in automatic mode. There are six levels of sensitivity, three audio tones, automatic/manual ground tracking, and depth indicator.
More advanced features include 0-99 target ID that helps identify the potential target according to the segments, notch discrimination, plus adjustable ferrous metals volume that allows to ignore ferrous metals altogether if necessary.
Simplex+ has 2 years warranty. Honestly, to have all these features packed into a small and lightweight machine not costing an arm and a leg. Now it is clear why Minelab are with foam at the mouth right now.
It also has:
pinpoint mode
other coils are compatible
software is updatable online
has LED flashlight
backlit screen and controls
has 4 search modes
notch discrimination is available
adjustable ferrous metals volume
volume is adjustable
3 audio tones
depth indicator
6 levels of sensitivity
frequency shift is available
Control Box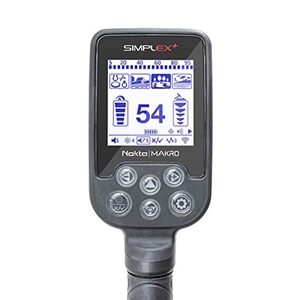 The control box is simple yet convenient and user-friendly. There are six buttons to turn the device on and off, and tune the settings. The discrimination scale is provided in the upper part, below you can see the Search Modes icons. Next there are VDI target identification numbers, the sensitivity scale is on the right, the depth scale is on the left. Below, there is a battery life indicator.
Search Modes
Let's talk search modes, because here we have a surprise from Nokta Makro, as well. The Nokta Makro Simplex+ machine has only four modes, seemingly pretty basic – Park, Field, All Metal, and Beach.
It is pretty clear about the first three. However, the Beach mode is adapted for Saltwater search, and this is incredible. In other words, you will be able to hunt with thing machine on the river banks (wet sand, fresh water), on the beach (wet sand, salt water), and in both fresh- and saltwater bodies, on depth! This is a wow, really. Well done Nokta.
Settings Review
The settings that you can see on the screen include volume, ground balance, ferrous metals volume, discrimination segments, frequency shift, wireless headphones mode, vibration mode, lights, and flashlight. All settings are tuned by pressing the buttons to the right or to the left, or using up and down buttons.
Volume level. Press plus or minus to regulate the volume
Ground balance. You either press the pinpoint button to set it automatically, or do it manually using the arrow buttons
Ferrous metals signal volume. You can make it higher or lower, or simply set it silent, to remove signals to ferrous metals targets altogether
Target discrimination settings. You can manually turn off certain discrimination scale segments, to remove signals to certain types of targets on trashy locations. You move along the scale with arrows and turn the segments on and off with the pinpoint button
Frequency shift. It is extremely useful when the metal detector starts reacting to radio-interference, or to power line, or to other metal detectors when there are other detectorists on the same location
Wireless headphones on and off mode, and the choice of frequency for them, from 1 to 5
Vibration mode setting. You can turn vibration on and off for certain targets, or it can also be useful when you search in a quiet place. Or underwater as well.
Tap lights setting. Here you can increase or decrease the light, or leave it in auto mode
and the last one is flashlight on and off.
Pros and Cons
Pros
In order to assess the new machine properly, one should be aware of both pros and cons. The features speak for themselves clear enough, so other obvious pros include:
affordable price (high quality, low price combination is killing)
suitable for noobs (the learning curve is not very steep)
saltwater beach search mode (just could not but mention this again)
already tested in the field, showing seamless performance and providing positive user experience
Cons
The cons include:
only one frequency (this is a very arguable con)
The Kit
The basic kit includes as follows:
system box
shaft
11 inches DD coil, waterproof
coil cover
USB charging cable
headphones adapter (Basic kit only)
charger adapter
wireless headphones (WHP kit only)
user manual
warranty certificate

12 kHz
4 Search Modes
11" DD Coil
Conclusion
To be concise and to the point, Simplex makes a very positive impression. Considering its price, this is the most packed with functions (most of them are actually useful) waterproof metal detector, with ground balance, made for beginner level.
In terms of functions, Simplex+ is definitely better than Garrett Ace series metal detectors, Fisher F11-F44 detectors, and other newbie-friendly metal detectors already available. In fact, due to its functions, it can be compared with Garrett AT Pro (that I have been using for several years), and yet, it is almost two times cheaper. No doubt, Simplex+ is a serious competitor for Quest – X5 and X10 metal detectors, and also for the Minelab Vanquish series expected in 2020.
Simplex can be considered a breakthrough in the beginner segment, and it will probably take this segment to the next level. This model is high quality and still easy to use. Nokta Makro managed to make a great metal detector that has high chances of becoming one of the best newbie metal detectors next year.
Top 3 Main Competitors
Garrett ACE 400 (400i)

Fisher F44

White's Treasure Master