Minelab Excalibur II Overview
Expert-level metal detector by Minelab, the Excalibur II model, is created for search and metal detecting underwater. This device was developed with complicated prospecting in mind. It is equipped with 17 operational frequencies (BBS multiple frequency technology), and the frequencies range from 1.5 kHz to 25.5 kHz, which is an amazing range.
The device is fully waterproof, it can be operated on the depth of up to 196 feet, and spot small coins, jewelry, and bigger items on the maximum depth. The level of discrimination available in Minelab Excalibur II allows to sort out items made of ferrous metals, and metallic trash. Smart ground balancing not only helps avoid distortion of the signal due to mineralization of soils, but also filters fake signalling caused by salty water. That feature allows to use the metal detector in fresh and salty water alike.
Excalibur II by Minelab is currently one of the best choices for those who are interested in underwater metal detecting and considers prospecting on considerable depth.
Top Features
Excalibur II is stuffed with some cool features you definitely want for productive search underwater, especially in salty bodies of water. The most innovative features include: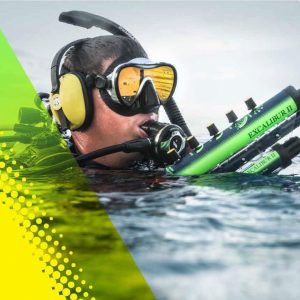 amplification of weak signals inside the coil. Smart technology reduces the noises and at the same time boosts signals from deep, small, but potentially valuable objects;
NiMH rechargeable battery pack promises 12 hours of battery life and perfect operation; it is expected that the machine operates equally even if the battery is low;
the bodywork on the shaft and the skid plate of the device are highly visible due to fluorescent design; the user is unlikely to lose sight of their device even if the device is let go in murky waters;
additional accessory includes side-mount shaft convenient for shallow and surf-wading;
the coil in the kit is Slimline 10 inches one, that reduces the weight of the device.
All these unusual features show that this product was engineered with complicated underwater conditions in mind. Moreover, the manufacturer claims that the device can be moved from land search to beach and shallow water search, to deep underwater search without changing the settings much.
Another interesting feature that should be mentioned is only two search modes – Discrimination and Pinpoint. This feature will enable the user to only change frequencies depending on the expected type of finds.
Search Modes
Excalibur II has only two search modes – Discriminate and All Metal Pinpoint. Some may consider this a drawback, but keeping in mind that this machine is more suitable for underwater and beach prospecting, having only two modes is rather a blessing.
This product is tagged as for "Intermediate" and "Experienced" level of the users, so it is expected that the users already know which frequencies will bring which types of finds. The brand enables the user to decide themselves which frequency to apply for which location. There are 17 frequencies available for prospecting, and changing the frequencies will change the conditions of search.
The Discrimination can be adjusted, as well as the sensitivity level, so the treasure hunter can tune the device to the most optimal combination of settings. Pinpoint mode is another bonus that helps to identify the exact location of the target.
All Features
Here are all the features available to the user in Excalibur II metal detector:
automated ground balance that includes filtering signals caused by minerals in the water
adjustable sensitivity of the device
automated threshold
full and total waterproofness, as the tool can be submerged to the depth of up to 196 feet and keeps its seamless functionality
there is no LCD display, and all settings are completed with the help of controls
To make head or tail of these controls, check out the following list:
Sensitivity control adjusts the level of sensitivity
Volume is for adjustment of the target signal volume
Threshold control is obviously for threshold sensitivity
Discriminate control is for adjustment of discrimination feature
Pinpoint control turns the static pinpoint mode on and off
Now, other technical specifications include:
potential locations/applications are Coin, Relic, Jewelry, Beach and Dive
the coil is DD 10 inches
Hardwired headphones
promised battery life is up to 19 hours, but user feedback states 12
1 year warranty by the manufacturer.
The technical specifications underline how unusual is Excalibur II compared to other metal detectors in the niche, and how carefully it was developed specifically for underwater prospecting.
Pros And Cons
Minelab Excalibur II

Since we provide only true and honest reviews, we have to immediately warn all the potential buyers that some users report addressing the Customer Services due to major breaks of the machine. These users state that in the majority of cases, the breaks are not minor at all, and they generally root from the underwater operation part of the device. So, we have to admit that there are no perfection in this world, and Excalibur II can break to the degree that you will need to address the Customer Service.
Pros
However, this machine actually have some rich advantages, including:
total waterproof isolation
depth of operation underwater is up to 196-200 feet
17 frequencies
super visible design
decent battery life
pinpoint mode
outstanding discrimination and ground balance
seamless operation in salt water
amplification of weak signals from small but potentially valuable items
alkaline batteries can be optionally used for power
really cool kit
Cons
Other drawbacks that can be identified basing on technical specifications and not on users' feedback are:
only two search modes
no LCD display, tuning is completed via controls
considerable weight (5.1 lbs)
hardwired headphones (no wireless technology)
made not in US
only 1 year of warranty
Hopefully, this section will help you eventually decide whether this tool is good for you.
The Kit
There are two standard kits for Minelab Excalibur II; the main and only difference is different sizes of the coil included into each kit. One kit features round 8 inches DD coil, the other one features round 10 inches DD coil.
Generally, the basic kit includes:
metal detector
NiMH battery pack 13V 1000 mAh
charging device for connection to 220V electricity grid
coil bracing set
protective cover for waterproof coil
short lower shaft
long lower shaft
Minelab waterproof headset
User's Guide
warranty certificate
DD search coil (8 or 10 inches).

1.5kHz to 25.5kHz
2 Search Modes
8" DD Coil
Summary
Minelab Excalibur II is intermediary to expert level metal detector for deep underwater prospecting. It has been on the market for a while already, so it is easy to assess all its real pros and cons. This device is equipped with some unique features for enhanced user experience, and promises to provide productive and successful search. If you would like to try out underwater prospecting, in fresh water or salt water bodies, and deep dive search is your ultimate goal, consider this machine.
Top 3 Main Competitors
Garrett Sea Hunter Mark 2

Fisher CZ-21

Minelab Equinox 800