Garrett ACE Apex Overview
Garrett Ace Apex metal detector is not something drop dead innovative, and many detectorists already share their negative opinion about the machine's features, or lack of ones. However, let's be honest – whatever Garrett makes, the thing is high quality. All machines released by this company are of exceptional quality, and they last for years without losing the productivity. So, before one dismisses the model altogether, we should actually wait for some real user experience and feedback from detectorists all over the world.
The machine was released on May 15, 2020. It is a well-known fact that the release was planned in 2019, but was later postponed. Many consider this was done to take time and see the changing trends on the market. This way, the company could redesign and improve its product after they see their competitors' innovations.
Now, we already know that the new machine is generally a continuation of the Ace series. The first Ace model was launched 15 years ago, and today, the company promises us a game changer, a product that takes detecting to the next level of comfort and productivity.
Garrett Apex – Multi-Frequency Middle-Level Metal Detector
The main and the most discussed feature of the new Garrett is the multi frequency. The product, basically, offers four separate frequencies – 5, 10, 15, and 20 kHz) which can be used each on it own, plus, two multi frequency modes. One multi frequency mode is for standard conditions, and the other is for saltwater beaches and coasts. This one is the real deal, for sure.
Multi frequency has been a hot ticket for a while now, and Garrett used a brilliant idea to offer variety in frequencies and their usage. Such flexibility makes the machine extremely versatile, giving options for various ground conditions – even the most complicated ones.
Perhaps the best thing about this very machine is that is it created for detectorists with the middle level of skill. This means both newbies and more experienced searchers can make use of it. Such opportunity is very promising for newbies, since they can give it a try with multi frequency technology, and the learning curve will not be so steep. More seasoned treasure hunters, in their turn, will be able to apply multi frequency and other additional features like multiple frequency shift channels, without managing complicated settings and tuning every single time.
New Garrett 6×11 ACE Viper DD Search Coil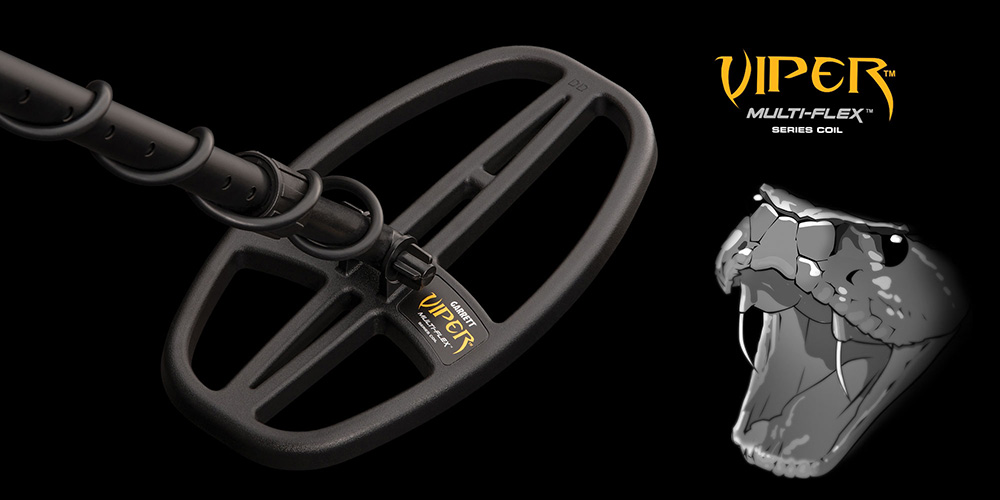 The new machine comes with a new coil, DD 6" x 11" Viper model. While the good news about the coil is its being fully waterproof, the rest of the machine is not, which makes the stock prices of Ace Apex drop considerably, so to say.
Secondly, the coil for Apex is not compatible with any of the previous Ace models – because it is created for the multi frequency technology, obviously. For the same reason, the existing coils working for Ace series will not function with Apex.
All this is not cool, because the company actually supports license that protects their technology from other competitors, and there are rumours that other companies will not be able, or legally allowed, to make alternative compatible coils for the new Apex. In their turn, Garrett themselves are not clear about when they release additional coils, and whether they are going to do so in the nearest future at all.
Which leaves us the users with one incompatible with other devices from the series coil which is waterproof for a non-waterproof machine.
Control Box and Search Modes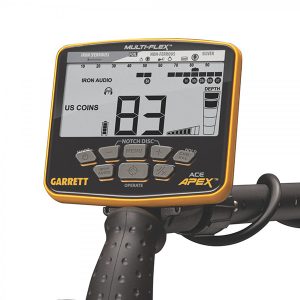 The control box for Apex was proudly improved, and features a better sleeker display with enhanced visibility. As we have already mentioned, there are four individual frequencies and two multi frequency modes.
The Standard Multi Frequency mode is for all kinds of search not involving water. The Multi-Salt frequency option was created specifically for beach search on seashore, where the mineralization of water and wet sand distorts the signal.
Now, there are eight channels for frequency shifts – and we mean, eight channels for each frequency option. Together, they make 48 channels for frequency shifts. In theory, this will make the machine protected from electromagnetic interference of any kind.
Talking about search modes, there are six of them – All Metal, Coins International, Coins US, Jewelry, Relics, Custom. The Pinpoint mode is also available for more accurate target finding. For all modes, the ground balance can be switched to Manual or Auto. There is an IRON AUDIO function, and the Black Iron segment of metals has eight segments for more accurate identification.
Top Features of Apex
To give you a clearer picture of what the Apex is all about, let's go through a list of its main benefits:
Multi frequency – this feature makes Apex kinda a competitor for XP Deus, which also has the option of search by using every frequency separately, or using all frequencies at the same time
Frequency shift – 48 frequency shift channels to avoid noise and electromagnetic interference is definitely impressive. On crowded rallies, this detector will also allow the user to get clean signal, regardless of all the peers around
Automatic ground balance is a serious advantage, especially for the middle level skilled users. Considering that the whole Ace series is more for beginners, Apex definitely takes the user experience to the next level
Noise cancellation – this is a huge advantage that will improve the user experience regardless of the frequency, search mode, or search grounds.
In-built battery – Garrett has added this feature to its product, at last (I was already going to buy a next pack of AA batteries, but luckily there is no need to do so). Rechargeable metal detector is definitely more handy.
Z-Lynk Technology wireless headphones – while the machine has a jack for wired headphones, wireless option is much more convenient. Moreover, Z-Lynk technology is six times faster that Bluetooth, which is also a huge advantage and a step forwards in the realm of middle-level metal detectors. Z-Lynk technology allows you to hear the signal from the target the moment you swing the coil above it, not seconds later when you already make a step
All Features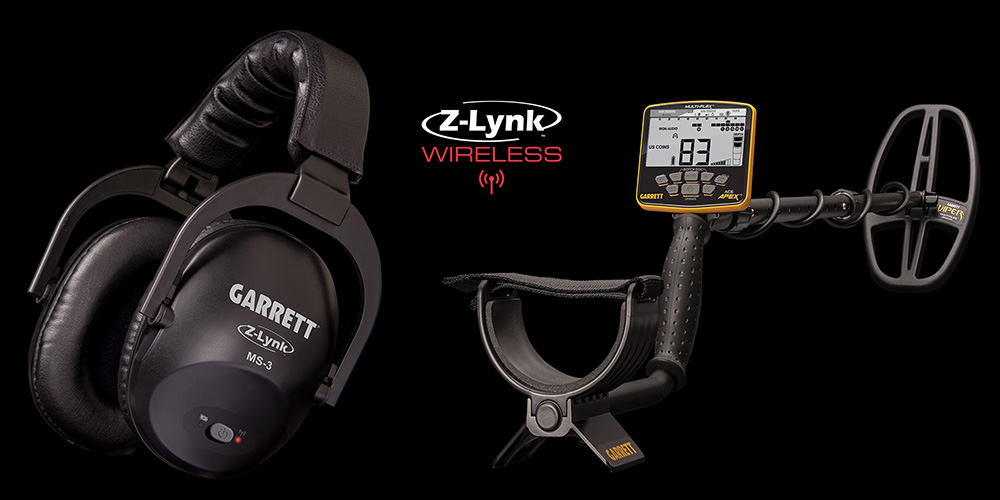 Now, the following features are offered in the Apex machine. Check the full list:
lightweight (2.5 lbs / 1.13 kgs)
operating frequencies – 5, 10, 15, 20 kHz, Multi Frequency, Multi-Salt
coil – DD 6"x11"
waterproof – coil
rainproof – control box and shaft
battery – rechargeable Lithium Ion
recharge – via USB port
target ID – 5 tone audio
target ID from 0 to 99
audio – Z-Lynk for wireless headphones, jack for wired headphones, internal speaker
edge-to-edge LCD display
backlit display
improved visibility
adjustable frequency shift
target volume
iron objects volume
eight iron discrimination segments
sensitivity level
6 search modes (custom mode included)
pinpoint mode
target notch discrimination
noise cancellation
fast recovery
slim control unit
auto ground balance and salt water ground balance
battery life – 15 hours
adjustable length of the shaft
warranty – 2 years
As you can see, Apex has things to offer. While there may be no bells and whistles, this machine promises to be high quality and productive.
Garrett Apex: Pros and Cons
Pros
For those who screams "benefits over features!" and wants to know the unique benefits immediately, check out the list:
classic but improved Garrett Ace design
multi frequency plus multi-salt, plus ability to use every operating frequency separately
adequate learning curve
new uniquely sized powerful waterproof DD coil
six search modes plus pinpoint
multiple frequency shift channels
Z-Lynk technology for wireless headphones
lightweight
rechargeable battery
Cons
Talking about obvious drawback, we can't miss the following:
the control box is not waterproof, only "rainproof"
the software cannot be updated online
armrest and shaft design ask for redesigning
Now you can make an informed decision on whether to order this detector for your future detection. Can it be your next best favourite?
The Kit
There are two kits options – one with, and one without the wireless headphones.
The general kit includes:
Metal Detector
Search Coil
Coil Cover
Mini-USB Charging Cable

5, 10, 15, 20 kHz
6 Search Modes
6"x11" DD Coil
Garrett ACE Apex vs Minelab Vanquish 550 and Nokta Makro Simplex

Click here to open this image in large size
Since Garrett Ace Apex is a direct competitor to Minelab Vanquish 550 and Nokta Makro Simplex, we believe making a comprehensive comparison makes perfect sense.
First and foremost, we have to admit that each of the machines is worth the money, and it will be unfair to underline a particular product as "the best". So, check out the comparison and choose the most convenient option particularly for you.
| Feature | Garrett ACE Apex | Minelab Vanquish 540 | Nokta Makro Simplex |
| --- | --- | --- | --- |
| Technology | Multi-Flex | Multi-IQ | VLF Single Frequency |
| Number of Frequencies | 4 | 3 | 1 |
| Frequencies | 5, 10, 15, 20 kHz | Simultaneous Multi-Frequency VLF | 12 kHz |
| Coil | 6"x11" | 12" | 11" |
| Search Coil Type | DD | DD | DD |
| VDI | Yes | Yes | Yes |
| Search Modes | 6 | 5 | 5 |
| Search Mode Types | 5 Factory + 1 Custom | All Metal / Coins / Jewelry / Relics + Custom | All Metal / Park 1 / Park 2 / Field / Beach (Saltwater) |
| Depth Indication | 5 Levels | 5 Levels | 7 Levels |
| Ground Balance | Automatic | Fixed | Automatic / Manual |
| Pinpoint Mode | Yes | Yes | Yes |
| Audio Tones | 5 | 5 | 3 |
| Battery | Lithium Polymer (USB Charging) | 4xAA Battaries | Lithium Polymer (USB Charging) |
ACE Apex vs Vanquish 540
Apex has more technologies applied compared to Vanquish 540 – the first one boasts Multi-Flex, Iron Volume, Multi-Salt, Z-Lynk, Apex Hybrid Audio, while the second one has Multi IQ and Iron Bias. Vanquish does not allow single frequency use, while the Apex does. Vanquish has a wider graphic scale, although the number of iron segments is smaller, which makes both detectors similar in the end. Vanquish has no ground balance feature. Both machines offer frequency shifts, but Apex has an impressively wider range of those.  Vanquish is a bit heavier than Apex, and the last but not the least – Vanquish is powered with AA batteries, while Apex is rechargeable.

Customizable Frequency Range
4 Search Modes
12" DD Coil
ACE Apex vs Simplex
Nokta Makro Simplex metal detector is the new black in the niche of beginner level and middle level detectorists, but Apex seems to be close on their heels. Simplex is underwater machine, while Apex is not even close (waterproof search coil doesn't count). The frequency technologies are different – multi frequency vs VLF (this just can't be compared, this can only be preferred). Simplex has additional features like vibration mode, adjustable backlight and updatable software, while Apex has neither. In other aspects, the two machines are pretty much similar, but Apex's price is much higher.

12 kHz
4 Search Modes
11" DD Coil
Conclusion
Ace Apex by Garrett may not be an all-time drop dead unique innovation. However, this review shows that Garrett managed to offer several strong benefits not available, or not available to the same extent, in machines by other brands. Of course, obvious drawbacks are, well, obvious, and hopefully Garrett will consider growing up from their sandbox in some aspects. Yet, other features provide strong competition, and the final verdict will be made by actual users.