Minelab Gold Monster 1000 Overview
This metal detector by Minelab has tons of positive comments by the users that state they manage to spot gold nuggets and flakes literally within the first hour of usage, as soon as they turned the device on for the first time. However, the bestest part about this machine is its totally newbie-friendly functioning due to fully automatic operation. The device is easily turned on, the user can start detecting quickly, and does not need to waste their time and effort to make head or tail of the complicated settings.
This is actually very cool, because the majority of machines for gold prospecting are created with experienced treasure hunters in mind. This makes sense, of course, since gold prospecting can be considered the top activity in metal detecting. Aurum ore is usually situation in complicated locations, and the search conditions are difficult for the seekers and for the equipment. So most brands make super advanced tools where each sneeze has to be manually tuned. However, Minelab took a different approach and made a product suitable for experienced detectorists who are, at the same time, newbies in gold prospecting.
With this product, one can upgrade their skills, spot some gold, and actually learn as they detect.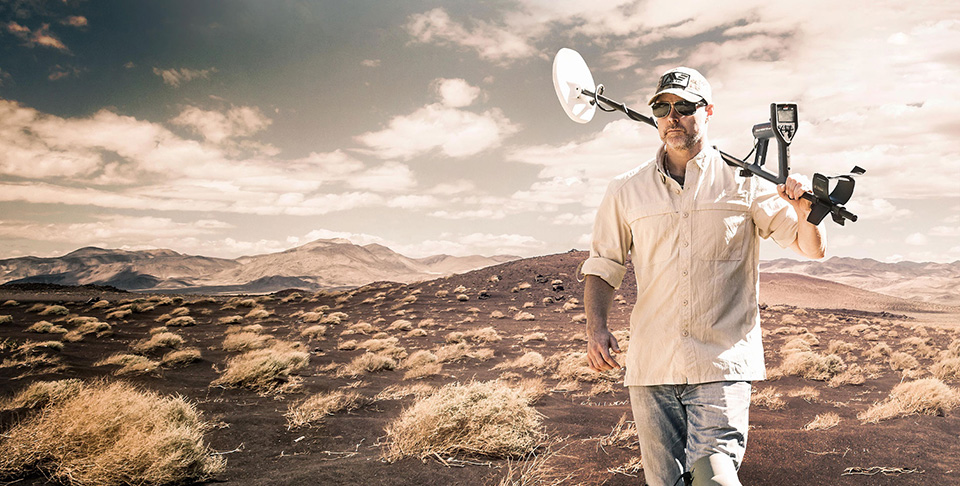 New Features
One of the new features in this device is the unusual discrimination called Gold Chance Indicator. The indicator can go from low to high, matching the probability of spotting aurum. Another cool feature is that the detector operates almost fully automatically, and the user has to manually tune only sensitivity and volume. This enables the user to start detecting easily and at the same time adjust to any conditions of search.
The device operation frequency is ultra-wide dynamic range 45 kHz VLF, that provides high sensitivity for gold and for small objects at the same time. There are two coils in the kit, one is waterproof and the other is not, so the user will be able to change the coil depending on the weather conditions.
Additional noob-friendly benefit of this tool is that there are only two search modes – Gold and All-Metal. The tool was created specifically for gold prospecting, so two search modes make tuning even easier for a beginner detectorist.
Search Modes
There are only two search modes for this model by Minelab. The first mode is Gold with clear iron reject. This mode is preset specifically for aurum nuggets and flakes, and will probably not allow to spot other objects effectively. On the other hand, combined with 45 kHz frequency and discrimination with gold chance indicator, this mode is likely to enable even a beginner to find some gold.
The second mode is Deep All-Metal, enabling the machine to spot all kinds of objects, including those located deeper, and this is an important aspect, because the 45 kHz frequency is rather high and therefore it does not reach very deep underground. Deep All-Metal mode is created for spotting any objects at all, just in case the user needs this.
All Features
The technology used for this product is Ultra-wide dynamic range 45 kHz VFL. There are two search modes and a type of discrimination created specifically for gold search. Ground Balance and Noise Cancel are automatic. Sensitivity and volume can be tuned manually according to the user's preferences.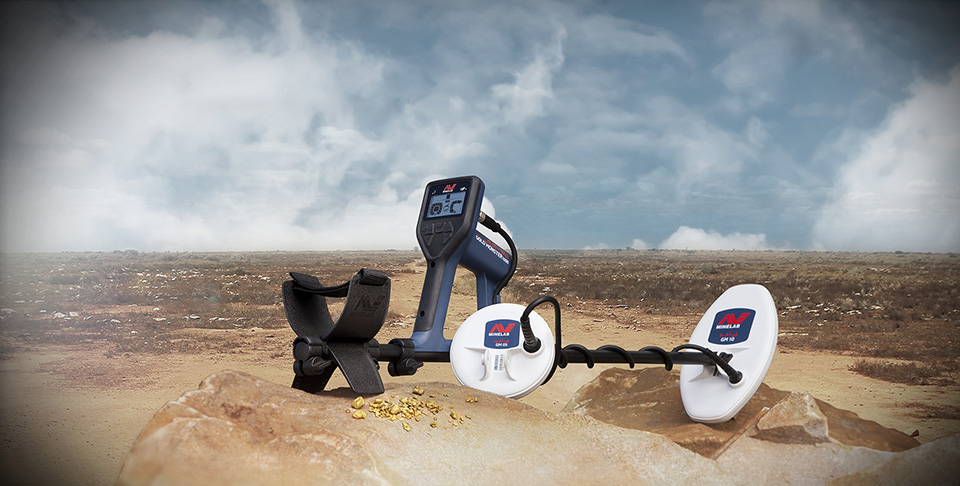 The device is equipped with monochrome LCD display. The length of the shaft is adjustable, from 54.4 inches to 37.2 inches. The weight is very small, especially compared to other products in the niche – only 2.94 lbs. The audio output is speaker and headphones. The device is not waterproof and not isolated (not even IP68). However, it has two interchangeable coils, and one of the coils is weatherproof. Both coils are DD models.
The device is powered either by a lithium-ion battery included into the kit, or by eight batteries of the AA type (not included into the kit). The manufacturer offers 2 years warranty for the coils and control box.
Pros and Cons
Pros
This product by Minelab is one of the best metal detector for gold prospecting made generally for beginners, and this is one of its best advantages. However, to get the full picture, check out the rest of the pros:
fully automatic
easy to start
highly adjustable
highly sensitive 45 kHz frequency
two coils in the kit
adjustable length
very lightweight
can be powered either by lithium-ion battery, or by AA batteries
unique discrimination created for spotting gold
a bunch of cool items included into the kit
Cons
These advantages show that the machine was made with ambitious beginners in mind. Almost every feature is potentially helpful for a more productive and successful search. Yet, there are some drawbacks as well:
not waterproof, not even IP68 index. Only one of the coils is weatherproof.
only two search modes
only one frequency
price is pretty high
Not waterproof and high price are probably the two main disadvantages for this device. However, if it is able to help a newbie find some gold, perhaps the tool is eventually worth the money.
The Kit
The kit for this product sounds like Christmas presents:
control box
armrest
10×6 inches DD coil
5 inches DD coil
headphones
collapsible shaft
AC charger
car battery cable
rechargeable lithium-ion battery
universal shaft adapter
digging tool
getting started guides
There are also additional accessories available for this model, including coils, skidplates, batteries and chargers, audio accessories, and hardware.

45 kHz
1 Search Modes
10" DD Coil
Summary
After reading this review it becomes clear that the Gold Monster 1000 by Minelab is a pretty efficient and accurate machine, despite the fact it was actually created for detectorists who are beginners in the field of gold prospecting. Considering that gold prospecting is no easy task, the manufacturer did everything possible to assist the treasure hunter on their way to success, making the operation of the detector as easy as possible. The device promises excellent user experience and noob-friendly tuning. At the same time, it is equipped with all features necessary for spotting some gold.
Top 3 Main Competitors
Garrett AT Gold

Fisher Gold Bug Pro

XP ORX