Minelab Equinox 600 Overview
Equinox 600 is a high quality and reliable all-purpose metal detector. It offers the treasure hunter all the benefits of a well-known and respectable brand, including comfortable, well-balanced and lightweight design, adequate user experience, and stable performance. There are tons of features, despite the fact that this model is a younger brother in the series. The tool is suggested to be used by seekers with low to medium experience in the hobby. The learning curve will not be very steep, though, due to the fact that the machine was created with user's comfort in mind. On the other hand, due to some innovative approaches, even a complete newbie is likely to take advantage of this instrument, and spot some cool finds right away. To assess the item properly, find out more about its tech specs, features, and also what are its differences from Minelab Equinox 800.
New Features
The main innovation applied to the series, which means to the model 600 as well, is the Multi frequency technology. This is a true breakthrough in the field of metal detecting, because it allows to comb the location with several frequencies at the same time. The equipment in this mode spots all kinds of objects, on all kinds of depths, because lower frequencies work deeper and with larger items, while higher frequencies spot smaller items on smaller depth well. With Multi frequency technology, the user does not need to check the location two, three, four times in a row switching the frequencies, to make sure they did not miss a potentially valuable item.
Another useful feature is compatibility with wireless headset, which makes search more comfortable for the hunter. Plus, it is also worth noting that the tool is fully isolated and can be submerged to the depth of 10 feet, making it even more multi-purpose, all-terrain and versatile.
Search Modes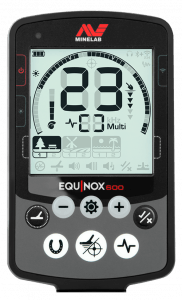 The tool has three search modes – Park, Beach, and Field. These modes allow the user to set the most optimal indications for the most various locations. The Park mode offers special pre-set conditions of search that have higher discrimination against trash, and the relevant ground balance. The Field mode has sensitivity proper for field soils, a different depth and discrimination, etc. The Beach mode offers lower sensitivity for trash plus salt water is taken into consideration. The tool is fully submersible, so it will show stable performance on the seashore or on the riverbank.
The best thing about search modes in this tool, though, is the fact that each search regime has options for two Custom modes set and saved by the user. It means that the treasure hunter can tune the tool more precisely within the certain conditions, save the tuning, and turn it on automatically for similar conditions any time. So, eventually it is possible to get nine search modes plus Multi frequency.
All Features
Minelab Equinox 600 has the following tech specs and features:
three single frequencies are available (5, 10, and 15 kHz) plus Multi frequency mode
DD coil
Three search modes plus six custom modes (two per each preset search mode)
pinpoint mode is also included
Fast and accurate Target ID with proper Recovery Speed
compatible with wireless audio headset or Bluetooth headphones
the instrument is totally waterproof and can be submerged to the depth of up to 10 feet, making it totally functional on the seashore.
the design is well-balanced and the whole tool is lightweight (3 lbs)
automatic Noise cancel feature
Ground Balance – automatic or manual
Sensitivity is from 1 to 25 levels
Target Volume is from 0 to 25 levels
Threshold levels – from 0 to 25
Target Identification includes 50 segments
Depth Indicator has 5 levels
Monochrome LCD display
In-built battery
the battery life is up to 12 hours
Software can be upgraded via connection to the PC
All these features make this piece of equipment really worth your attention. As it becomes obvious, the item is equipped with all necessary features for productive and successful search. At the same time, it does not require extreme experience in the hobby, because half of the settings are automatic, and another half are pretty easy to make head or tail of. With these specs, Equinox 600 seems to exceed a lot of products available out there on the market, and yet, it is available for reasonable money (so you don't need to sell your kidney). The best feature is, of course, its Multi frequency, so we have to discuss it separately.
Multi-IQ Technology

The feature of Multi Frequency is available due to the so-called Multi-IQ technology. Multi IQ is Multi-Frequency In-phase and Quadrature Synchronous Demodulation. The main principle of its functioning is the following: when combing the location with one frequency, the field of the coil can change due to the amount of trash and especially due to changes in soil mineralization. Therefore, while the hunter uses the same frequency, the tool may not perform with the same stability throughout the location. Multi frequency means piercing the ground with several frequencies at the same time. While some of these frequencies will be impacted by pieces of trash or by high level of soil mineralization, other will not be impacted and will comb the location properly, maintaining the stability of search.
This means that each frequency in the Multi-IQ tool compensates for those that are impacted by potential barriers. The field of the coil is kept stable and efficient. Lower frequencies will reach the deepest possible levels of the soils, while higher frequencies will spot smaller objects. Thus, buying a tool with Multi-IQ technology, the hunter gets both stable and at the same time sensitive detector.
Pros And Cons
Pros
Equinox 600 has a lot of advantages that will become handy even for a total newbie:
lightweight design
waterproof index IP 68 allowing to submerge the tool to the depth of up to 10 feet
three single frequencies plus Multi-frequency mode plus pinpoint mode
custom search modes
3 years warranty
compatibility with wireless headsets
DD coil
updatable software
several additional compatible coils
budget-friendly price
These make the instrument cool and user-friendly for hunters with low to middle level experience. The item is all-terrain and multi-purpose, showing nice performance on land and in water.
Cons
There are some disadvantages, as well, of course, including:
in-built battery
comparatively short battery life
no wireless headset in the kit
not adjustable length
Those are the disadvantages of the tool, and honestly, these do not seem very decisive. Overall, this product is great, offers decent user experience and is available for healthy sum of money.
The Kit
The Minelab Equinox 600 kit includes:
metal detecting machine
wired headphones (not waterproof!)
USB charging cable
Multi-language screen protectors
User's Guide
There are also compatible coils and other accessories available for the kit.

5 kHz / 10 kHz / 15 kHz + Multi
3 Search Modes
11" DD Coil
Variation From Equinox 800
There are kit differences and feature differences between the two models within this series. The kit differences include: no WM 08 module provided in the kit for Equinox 600, despite the fact it is compatible; wired headphones for 600 and wireless for 800.
The feature for model 600 differences include: not adjustable backlight (only on and off), no quick switch from one search mode to another, not adjustable threshold, not adjustable noise reduction, no "Gold" search program, only three speeds of response (compared to 8 in the 800 model), more primitive audio capabilities, three operating frequencies (compared to five in 800 model).
These are the differences between the two. It becomes obvious, however, that the main perks remain the same – Multi frequency, waterproof isolation, design, and updatable software.

5 kHz / 10 kHz / 15 kHz/ 20 kHz / 40 kHz + Multi
6 Search Modes
11" DD Coil
Summary
Minelab Equinox 600 is a great all-terrain all-purpose instrument for detecting a wide range of objects. If offers stable performance on land and underwater, has several truly groundbreaking features aimed to enhance the treasure hunting process, and all setting and tuning seem to be adequate and reasonable. In other words, this is a great reliable machine without any additional fluffy nonsense that only adds cost to it. It promises to be a perfect choice for hunters with low to medium level of expertise, and due to smart combination of features, it is likely to bring finds even to a complete newbie.
Top 3 Main Competitors
Garrett AT Max

XP Deus

Nokta Makro Anfibio Multi