Technical Specifications:

Rank:
Semi-Professional
Detector Type:
All-Purpose
Technology:
VLF Single Frequency
Frequencies:
19 kHz
Number of Frequencies:
1
Coil:
11"
Search Coil Type:
DD
VDI:
Yes
Search Modes:
5
Search Mode Types:
All Metal / Artifact / Coins / Jewelry + Custom
Depth Indication:
Yes
Ground Balance:
 Manual
Pinpoint Mode:
Yes
Audio Tones:
4
Display Type:
LCD
Assembled Length (min-max):
41.5"-51.5"
Batteries:
2 AA batteries required
Item Weight:
1 kg
Fisher F44 metal detector is a device for universal search, equipped with everything necessary for quick and accurate detection and identification of all kinds of objects. The device is suitable for all types of treasure hunting: coin search, military archaeology, a survey of abandoned houses, beach looking for jewelry, tracking down the treasures and historical relics. Moderate functionality involves the use of a detector for both novice users and more advanced search engines. Fisher F44 metal detector is enough to turn on and immediately start using, but despite this search efficiency is quite high, and the versatility will help beginners to determine the direction in the treasure hunt.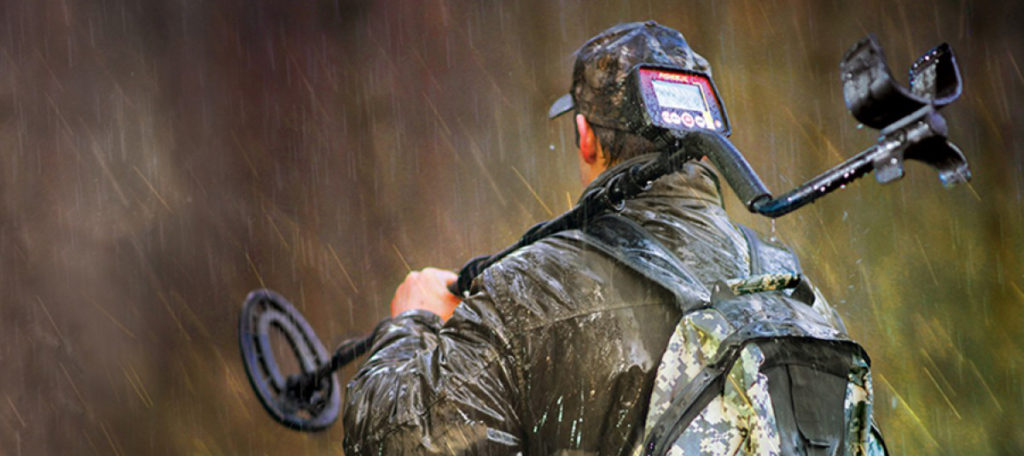 The metal detector operates at a frequency of 7.69 kHz, which is optimally suited for purposes of any size, and the 11-inch mono-coil of non-standard shape breaks through a fairly good depth, so that the combination of these characteristics allows you to use the Fisher F44 metal detector to find both small and large targets that lie deep enough. A 9-segment discrimination scale and VDI numbers are used to determine the type of metal. The detector is equipped with an automatic adjustment to the soil, allowing the device to independently select the type of soil to reduce the impact of mineralization, but for fine-tuning Fisher F44 has a manual mode of soil balance. There is a special mode to accurately determine the location of the detected target – pinpoint, which quickly finds a lost find in freshly dug land.
Fisher F44 metal detector is equipped with a large screen, which displays large data of the search process and the characteristics of the find, which helps to better perceive the information even for people with low vision, and for use in low-lighted places provided backlight mode. To make it easier to configure, you can select one of the four preinstalled programs that will optimally match the search tasks, and to save the individual settings, you can use the fifth program specifically designed for this purpose. Fisher F44 has a light weight that allows to survey large areas over a long time, and the original shape of the coil allows it to penetrate into hard to reach places, thanks to the narrow front end.