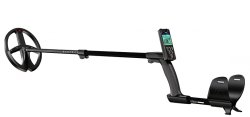 Technical Specifications:

Rank:
Professional
Detector Type:
All-Purpose
Technology:
VLF Single Frequency
Frequencies:
4 kHz / 8 kHz / 12 kHz / 18 kHz + shifts
Number of Frequencies:
4
Coil:
9" / 11" / 13" x 11" (Different Configurations)
Search Coil Type:
DD
VDI:
Yes
Search Modes:
17
Search Mode Types:
9 factory + 8 users
Depth Indication:
Yes
Ground Balance:
Manual
Pinpoint Mode:
Yes
Audio Tones:
5 Multi-tones + Pitch + Full Tones
Display Type:
LCD
Assembled Length (min):
25"
Batteries:
Accumulator (Charging from USB)
Item Weight:
987 g
XP Deus comes with wireless headphones WS4 or WS5 and with or without wireless Control Box (depends on configuration).
Professional metal detector of the French manufacturer XP Metal Detectors. One of the best metal detectors for coins, searching on the beach. Modern search technologies in discrimination. Totally wireless! Coil, metal detector unit, wireless headphones.