Technical Specifications:

Rank:
Beginner
Detector Type:
All-Purpose
Technology:
VLF Single Frequency
Frequencies:
6.5 kHz
Number of Frequencies:
1
Coil:
6.5" х 9" PROformance
Search Coil Type:
Concentric
VDI:
No
Search Modes:
5
Search Mode Types:
All Metal / Coins / Jewelry / Relics / Custom
Depth Indication:
Yes
Ground Balance:
 Fixed
Pinpoint Mode:
Yes
Audio Tones:
3
Display Type:
LCD
Assembled Length (min-max):
42"-51"
Batteries:
4 AA batteries required
Item Weight:
1.2 kg
Garrett ACE 250 Metal Detector. The Garrett Ace 250 is one of the most popular ground search metal detectors in the US. The Garrett Ace 250 is easy to use and handle. It is light-weight and easy to transport.
Garrett ACE 250 is considered a classic search engine equipment, which for many years has served as a reliable newcomer to the metal, and experienced treasure hunters. High manufacturing standards and an optimal set of search functions at an affordable price make the device one of the most popular models of metal detectors. Garrett ACE 250 finds application in any kind of metal discovery-monetary, beach, military, in search of large treasures and historical relics. The detector copes equally well with any search targets and easily detects even complex objects made of non-ferrous metal on clogged areas.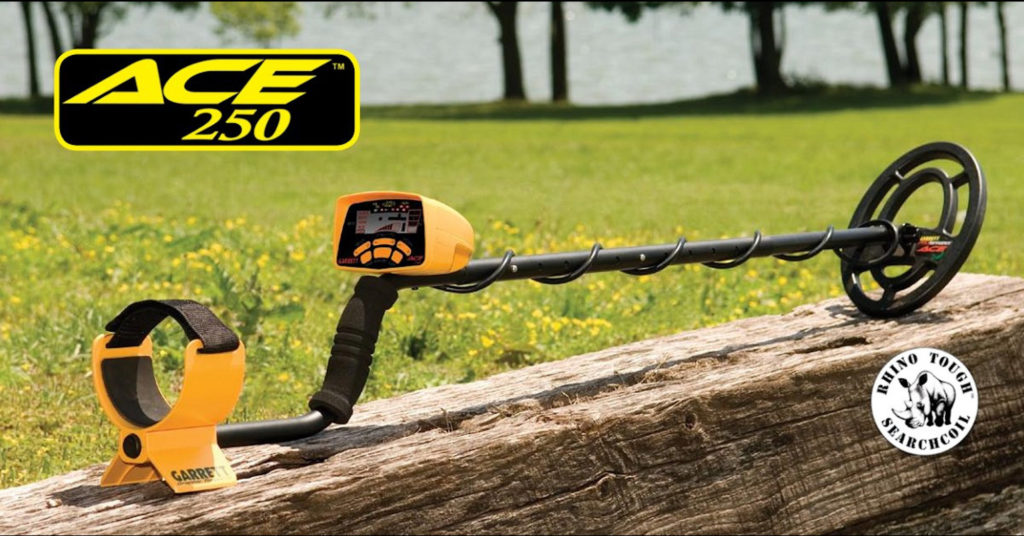 Constructive features of Garrett ACE 250 have the standard solution and provide a comfortable user experience in any conditions. The working frequency of 6.5 kHz orients the detector to universal search even in difficult areas with high mineralization. The package includes a sealed mono-coil size 6,5×9 inches, which is designed for the detection of targets of any size. Metal detector Garrett ACE 250 has an expanded scale discrimination of twelve independent sectors to determine the type of metal, and by selecting one of the preset modes (all metal, coins, relics or jewelry) there is no need to debug, but if you want individual settings can be saved in the user program.
The device can operate in two modes – static and dynamic, and in the first embodiment, you can use a special function to determine the exact location of the PinPoint target. This option is more peculiar to expensive professional detectors, but these Garrett ACE 250 and differs from similar metal detectors of the same level. The three-tone sound indicator helps send a strong signal about the discovery, which eliminates the ability to skip valuable objects, and adjustable sensitivity improve the sensitivity of the metal detector Garrett ACE 250 to very small targets. The use of headphones will help to hear even the quietest signals in a noisy place, and you can choose the model of headphones depending on the search tasks.