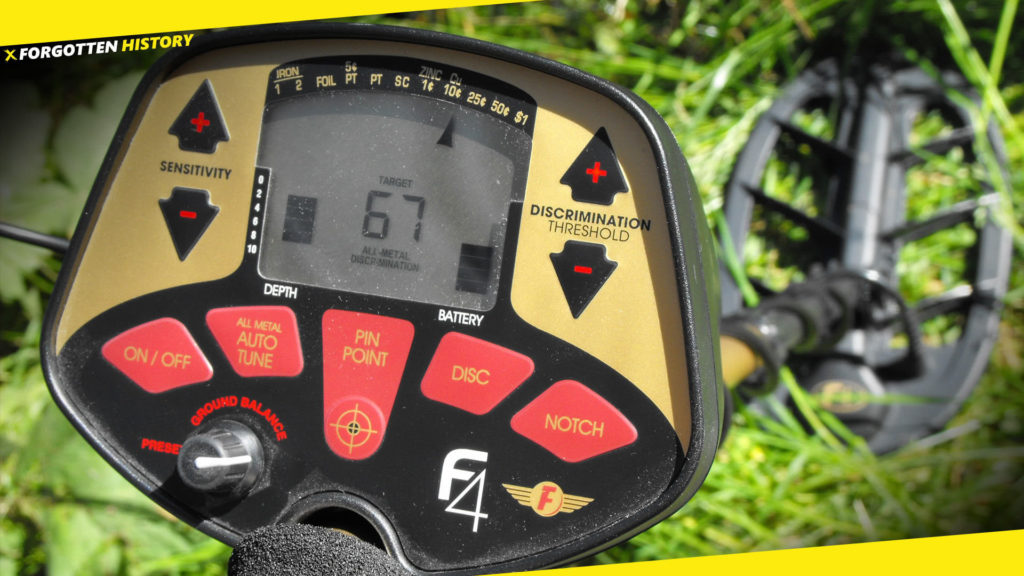 If you love detecting metals, the use of metal detector will surely be your best equipment to make the search a lot easier.  You are supposed to look for the right metal detector to accomplish your goal of metal detecting. When looking for the best metal detector you can consider the Fisher F4.
Fisher F4 is what you may try it first before deciding which one you are going to buy. Its simplicity made this as an ideal metal detector of the present time.  The exciting activity of using metal detector may always be successful with the use of this metal detecting equipment. In this review for Fisher F4 learn why it is a good option or not in searching for the right metal detector.
Technical Specifications:
| Rank: | Beginner |
| --- | --- |
| Detector Type: | All-Purpose |
| Technology: | VLF Single Frequency |
| Frequencies: | 7.3 kHz |
| Number of Frequencies: | 1 |
| Coil: | 11" |
| Search Coil Type: | DD |
| VDI: | Yes |
| Search Modes: | 2 |
| Search Mode Types: | All Metal / Notch Discrimination |
| Depth Indication: | Yes |
| Ground Balance: |  Manual |
| Pinpoint Mode: | Yes |
| Audio Tones: | 4 |
| Display Type: | LCD |
| Assembled Length (min-max): | 41.5"-51.5" |
| Batteries: | 2 9V PP3 |
| Item Weight: | 1.2 kg |
Product Features
Fisher F4 features advanced technology that is the 11 segment for visual ID target that is helpful in identifying a trash from a treasure.
 It has also a notch control that allows user to ignore the select trash and with 11 bi-axial of search coil.
It even has a deep seeking automatic tune for a manual ground balance.
Fisher F4 is ideal for every relic hunters and for those beachcombers.
It is a metal detector recommended for beach hunting, relic hunting and coin shooting.

Pros
Fisher F4 is a lightweight metal detector that can be used at different places like beach, mountainous place or even at your backyard.
It has a design that is very easy to learn and manipulate.
This is the metal detector that makes the metal hunting job easier as it allows user to get valuable materials only. This knows the difference if a trash form a treasure to collect and keep.
The Fisher F4 best price can be very ideal for the customers.
Fisher F4 is available for those relic hunters, beach hunters and coin shooters.
Cons
There are some missing parts that according to some of the customers. However, there are nothing else concern that can make this as an ideal metal detector.
Customer Reviews and Scores
Fisher F4 has its advanced systems and high capacity detecting features that makes it as an idealistic metal detector to choose. Such reason gives most of the user to continuously use their own Fisher F4. They are satisfied with the job of this metal detector so it is very easy for them to trust and give this a score five stars. This metal detector deserves such score as the only problem that most of the customer seen is about its plastic bolt which holds the coil to the arm and it was missing. But then most of them do not have any complain.
The use of this metal detector is really essential for those who want a quality type of metal detector. With its features that are really helpful and price which is very affordable, you can never go wrong in choosing this metal detector.
---
P.S. In 2015, the company decided to update this popular metal detector and released a novelty Fisher F22, which is an updated version of Fisher F4 Metal Detector:
---