Whites MX Sport Overview
This metal detector is designed as a universal tool for usual, deep-water, and underwater metal detecting; the maximum depth is 3 meters / 9-10 feet. The frequency used is 13,8 khz, and the tool used 20 tones for sound identification. The manufacturer, White's Electronics, has basically updated its previous model of the metal detector, improving it and adding new features.
New And Interesting Features
The new features include smaller weight of the tool, which is crucial in long-term searches. Also, the machine is now totally waterproof, including the coil, the power block, and the plug connections.
The second important new feature to discuss is the high discrimination speed, which results is faster identification of targets on small distances. If you are searching in places where lots of junk is present, this feature will save your time and efforts. The tool performs quickly overall, due to powerful processor.
The next benefit is wider range of sound identification, which offers options of 1, 2, 4, , and 20 tones regimes for target identification. This variety allows to differentiate the potential targets according to the metal they are made from, which is a godsend feature on littered locations.
And the last but not the least, the new SAT function enables the machine to automatically regulate the signals depending on the type of soil. SAT keeps the sound and tone on the same level, to prevent misinterpretation of signal change as target if the signal change was caused by the type of soil.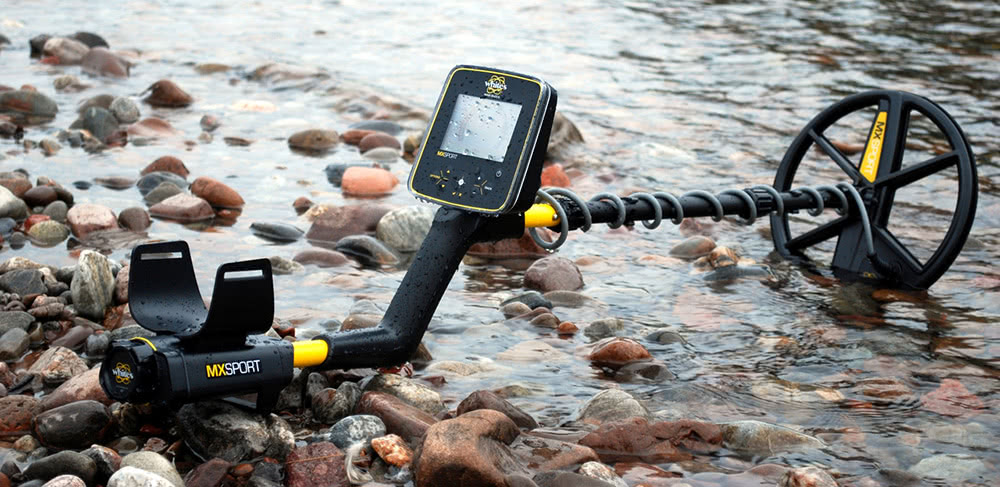 Search Modes
Here are the search modes available when working with the Whites MX Sport metal detector:
all metals, handy when you want to spot any potential target;
coins and jewelry, which is the most user-friendly mode;
beach, allows to search on black, wet, and salty sand;
relics – perfect for metals used for ancient jewelry and stuff;
prospecting (search for gold nuggets);
Hi Trash for littered soils full of metal junk;
Pinpoint mode which is stunningly accurate with finding the exact location of targets.
These modes, when combined with search tones and other settings, provide the user with enhanced variations for usage of the tool, depending on the conditions of treasure hunting. Overall, it is not that easy to combine all these settings, and even though the machine gives excellent results when set properly, newbies should start with something simpler than that.
Features
White's MX Sport

In addition to all the new functions offered in this enhanced model of metal detector, it is equipped with a bunch of other useful and important settings and options. Due to those it is so expensive, and because of those features it is so valued by professional metal detectorists:
VCO – the function that allows the coil to regulate sound depending on the proximity of the coil to the potential target. It means that when the coil is directly above the target, the sound is the clearest and highest.
Salt Track allows to monitor the levels of salt in soil, and regulate the search settings depending on this aspect.
Rejection Volume function – enables to listed to the signals given by the rejected targets, just to be on the safe side and make sure you do not miss any objects on the location.
Metal detector type – Universal
Weight – 1,8 kgs
Waterproof
Tap lights
Telescopic shaft
Batteries – 8 units AA, not included into the kit
Battery life – up to 20 hours in search mode
Head phones plug connection is 6,3 mm
Ergonomic elbow-board
Elbow-board belt is included into the kit
Control panel – standard
1 frequency 13,8 khz
Variations for frequency shift – 5 options
2 years warranty
Guide is included into the kit
Coil – 10 inches DD coil
Other coils can be used
Equipped with LCD display
6 search modes + Pinpoint search mode is available
VLF performance
Discrimination – can be set in the range of 20 segments
Automatic settings depending on the soil type is available
Sensitivity can be set
Volume of sound can be set
As you see, this metal detector provides an impressive range of options for setting it according to your needs and preferences during each metal detecting session. That is why experts are so in love with it, and newbies can't make head or tail with it. Using this machine needs experience and skill.
Pros and Cons
The very list of features and options offered by this metal detector shows, generally, all the main benefits of this equipment. The main advantage is that, having this machine at hand, you will be able to work on any terrains, on wet and salty soils, in water and underwater, on littered soils, and your chances of spotting everything your device will be able to spot are super high.
The best thing about setting the tool is, if you have enough skill and experience, you can choose the most correct settings and achieve the most sensitivity and clearness in signal, for each particular terrain, weather, and other conditions.
However, this is also the worst thing about settings if the user lacks experience and skills. So, the disadvantage is that this tool is definitely not for beginners, and is honestly recommended to experts in treasure hunting.
And of course, price is a serious disadvantage; obviously, the tool is worth the money, and yet, not every treasure hunter is ready to invest so much into a hobby, even if it is profitable and promising.
The Kit
The kit is pretty standard:
shaft
fixing and support system
warranty certificate
10 inches coil
documents
some kits offer headset, pinpointer, or other accessories additionally to the main list of items.
Summary
To summarize the whole review, it has to be said that Whites MX Sport metal detector is a unique device which stands out among the other metal detectors due to the combination of high quality, a wide range of tools and options, and variations in modes and settings. It is convenient, handy, functional, and promises seamless performance on all kinds of terrain. Whites MX Sport is a top title from a famous and reputable manufacturer, and considering that the model was presented in 2016, experienced treasure hunters have already tested it, and the majority of users is totally fond of this metal detector. So, if you are confident in your treasure hunting skills and have enough experience, you should definitely buy this machine and try it out on complicated locations!
Top 3 Main Competitors
Garrett AT Max

Minelab Equinox 800

XP Deus