Garrett Metal Detectors are regarded some of the best and the most exceptional quality metal detectors for treasure hunting on a global scale. A Garrett metal detector is almost a 100% guarantee for some cool finds during each detecting session, literally on any terrain. All metal detectors Garrett releases can boast unique user-friendly design, advanced technologies, and a bunch of features that will make any user happy. This is exactly why these tools are regarded some of the bestest on the global scale.
Being one of the oldest and most reputable American brands of metal detectors, Garrett have chosen their line of strategy very successfully. What they offer is a reasonable convenient design, without any unnecessary super features, meaning without any fancy stuff no one actually uses. Each tool is functional, very reliable, so have absolutely everything needed for efficient search. Their most recent items include Garrett Ace Series (Ace 200, Ace 300, Ace 400), Garrett AT Series (AT Pro, AT Gold, AT Max), and expert level tool Garrett ATX. If you are into really productive and successful treasure hunting, you should definitely check out our Garrett metal detectors reviews to choose a tool to your liking.
Garrett History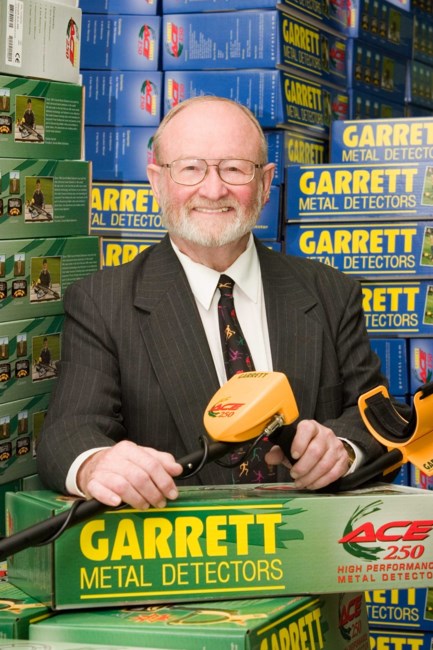 The Garrett metal detecting brand was founded by Charles Garrett who created this company in 1964. The reason why the company was created is that Garrett had to rent metal detectors back then and was totally unhappy with their quality. He started developing an improved tool already in his backyard, and already in 1964 presented his first metal detector Hunter. With time, Garrett became the first metal detecting equipment manufacturer who managed to cope with the frequency shift defect. Then, he works in improvement of the coil, making another breakthrough in the industry.
In 1971 the Garrett company released its first on-budget tool Mini Hunter. During the 70s, the developer works on frequency switch feature, and also coins the VLF term. Eventually, the tool GroundHog VLF/TR is produced, and after that the underwater Sea Hunter appears on the market. In 1984, the company increases the range of products it manufactures, and presents the first frame metal detector MagnaScanner and hand-held tools Pocket Probe used for safety during the Olympic Games.
The 90s see a real bloom of the Garrett brand. In 1990, it presents the first tool with a microprocessor Graphic Target Analyzing (GTA) which enables the user to spot treasures. The next technical improvements include enhanced depth of reach, and improved features for specifying the depth of location, plus the size of targets. At the same time, Garrett continues its collaboration with the Olympic Games for provision of safety.
Another sphere of the Garrett's activity is education. The company organizes numerous educational courses and collaborates with some of the best institutions to offer technical insights into metal detecting plus also safety. In 1997, the official Garrett Academy of Metal Detection is opened. They certify metal detectors used for safety check in airports and public events.
In 2001, Garrett released a hand-held tool Superwand used for safety checks. This tool becomes incredibly popular, so eventually all American airports purchase it in considerable numbers. The brand continues its work on frame metal detecting equipment. On the other hand, its departments present new improved and innovative models for gold nuggets search and underwater search.
In 2004, the brand celebrates its 40 years on the market. The same year, the ACE series of the items sees the world, and stays for years as some of the best on-budget tools globally. In 2009, the company widens its range of products even more and starts working in the niche of mine detecting sets, presenting the first set RECON-PRO AML (all metal) 1000.
From 2010 to 2019, the company has released a newbie-friendly model ACE 350, all location model AT Pro, safety check tool Super Scanner V, and an expert level model for gold nuggets search AT Gold. Equipment for places of crime Garrett CSI Pro is released in 2012, and the treasure hunting piese Garrett ATX. In 2017, Garrett presents a new wireless technology Z-Lynk with new Garrett Pro Pointer AT Z-Lynk.
As you can see, this company is pretty old and has a rich and successful history. Its outstanding experience in provision of safety checks and even mine detecting sets allows to suggest that their treasure hunting metal detectors are close to state of the art tools.
Garrett Metal Detectors Reviews
It must be said that generally, any piece manufactured by the Garrett does not need a recommendation. A spotless reputation and undoubtful reliability of this old and respectable brand speaks for itself. Anyone can buy a Garrett anything and be sure they get the highest quality possible for their money.
However, it is obvious that there are so many series and products, that even an experienced treasure hunter can simply get lost in all this abundance of options. To make head or tail of all this data, allow us to guide you through all the peculiarities of this brands' tools via our detailed and informative reviews.
We assess and review each item basing on our own experience, other buyers' feedback, and also the opinion of experts from all countries. We do not provide simply promotional texts even for the most exceptional quality and expensive products.
You can also expect discovering all real or potential issues and drawbacks each model may have. Check the reviews on each product to get a realistic understanding of its features, advantages, and disadvantages.
Purely for your convenience we also add the Garrett tools to different lists, so if you have some particular criteria to follow, you can check our lists to quickly find what you need. Even a total newbie will be able to find, compare, and assess every item available on the market by using our reviews and lists. We update all the info on a regular basis, so only fresh and recent data is presented. You can start your search with some recent Garrett models reviewed, and make an informed choice about all your future purchases for the wonderful hobby of treasure hunting.
All Garrett Metal Detectors Metal Detectors on Detect History
All Garrett Metal Detectors Pinpointers