The latest trend with big metal detector manufacturers is that bold young companies take the market by storm, offering state of the art advanced solutions not costing an arm and a leg, and many beginner and medium-level detectorists happily explore new possibilities. However, Whites Metal Detectors seems to wedge in with their unexpected new device, GMXSport. This is recent news, and not much is revealed yet, but here are the details.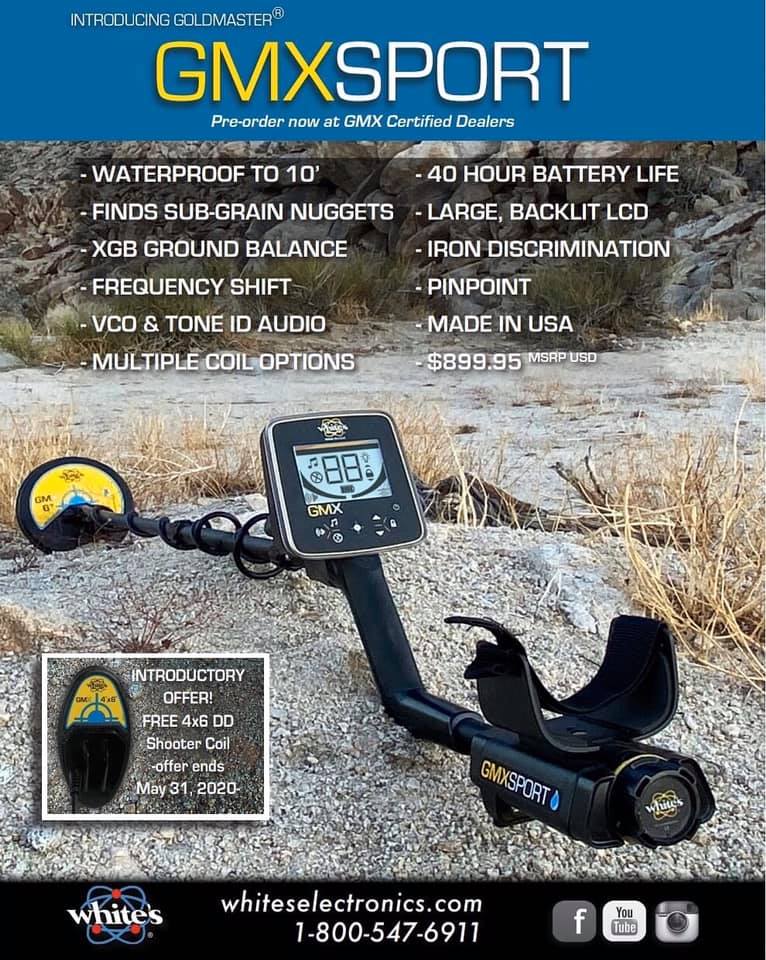 What We Know
The new metal detector by White's has been developed specifically for gold nuggets search, and as for today, it is possible to pre-order it from official distributors. The main features promised include:
waterproof up to 10 ft
exquisite ground balance
shows good performance with sub-grain nuggets
frequency shift for better operation
at least one additional compatible coil available
extended 40 hours battery life
larger display
high quality iron discrimination
pinpoint mode included
While the list is not full, we can learn enough to pre-assess the item. White's is one of the oldest and the most respectable brands out there, and to be honest, the new device looks very much alike the model already in access – MX Sport. However, this is in fact great news, because MX Sport enjoys love and devotion of many detectorists, and a new model shows that the MX series was pushed to a new stage of development. White's had no such news since 2016, exactly when their MX Sport was released. Hopefully, they spent this time researching and improving.
Competition Never Sleeps

Meanwhile, competition is on the watch, and another old and reputable brand – Garrett Metal Detectors – is getting ready to show something new. At the CES 2020 exhibition that took place in Las Vegas, they hung a huge banner claiming "NEW PRODUCT Coming in 2020!" Garrett promises to take the technology to a new level, probably to make a decent competition to Minelab, Nokta Makro, and Quest.

Perhaps more will be revealed after the SHOT Show 2020 exhibition (Jan 21 2020 – Jan 24 2020) taking place in Las Vegas.

Stay tuned to be posted about what year 2020 has in store for us treasure hunters!