We totally understand that opting for a new device may be difficult, especially if you are planning to buy online. It is always hard to make a choice, when you cannot have your hands on the item and try it out.
We often get messages asking for help in choosing a metal detecting machine, especially in the beginner segment. Many newbie treasure hunters work hard to educate themselves on all the theory, read all reviews, and yet do not feel confident enough to make final choice without expert advice. If you are among them, there is nothing to worry about. One has to spend lots of hours detecting in the field, and comparing machines in practice, before they become experienced enough to assess devices simply by checking their tech specs.
If you are wondering what criteria to depend on in order to opt for an ideal metal detector for yourself, don't waste your time guessing. We have already developed a free automated tool that will help you choose your new machine.
This is our Metal Detector Choice Generator, and it is the first automated tool for choosing a device, in the world. Moreover, it is free and all you need to do is answer five simple questions. In addition to one main option, it will provide you with two more options of different devices, so that you could really step back and consider which one is the most suitable for you.
We help you opt for a machine basing on our numerous and detailed reviews, ratings, comparison lists, plus we have researched feedback of real detectorists and experts around the world. Our experts have contributed their own knowledge and experience, as well. So, the result you get within the Generator is equal to good advice from a professional detectorist.
Why Metal Detector Choice Generation Is Cool And Handy
Our Metal Detector Choice Generator was created to help newbies in the first place. Experienced detectorists, as a rule, are already aware of all the nuances of brands, models, machines, as well as they are totally aware of their own preferences, locations they have access to, etc. Beginner detectorists, on the other hand, may not yet be aware of what criteria should be given priority to, and can base their choice on secondary features of the metal detector, overlooking some really important things.
Our Metal Detector Choice Generator filters all possible titles according to the feature sets predefined by the users' answers to the questions. The result is 99% accurate and takes into account all preferences and expectations of the user.
One of the most widespread mistakes of a newbie is that they buy either the cheapest machines, find nothing but metal trash, and eventually forget about this hobby; or, vice versa, they purchase fancy and expensive machines, cannot manage the settings, fail to find much, and also ball on detecting. The Metal Detector Choice Generator will offer the most convenient model which will still have necessary functions, and yet will fit within the indicated budget.
Now, no need to read tons of reviews, watch videos till your eyes get sore, and rack your brains comparing the metal detectors on your own. We have done this for you.
How To Use The Tool
Using the Generator is easy-peasy.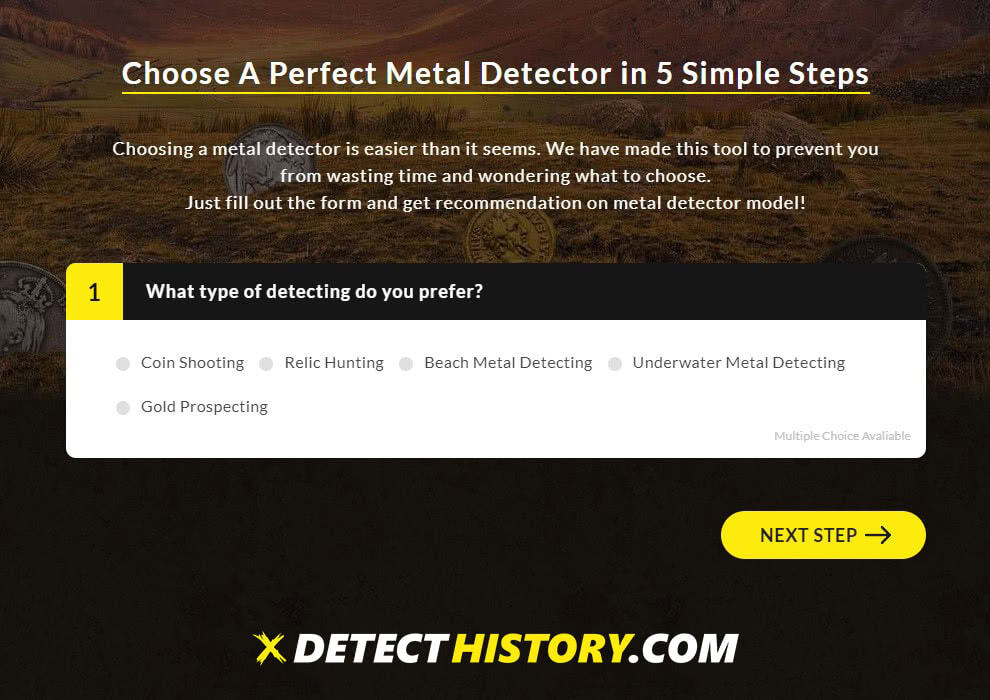 All you need to do is just answer five simple questions, and get the results telling you which machine is the most suitable for you.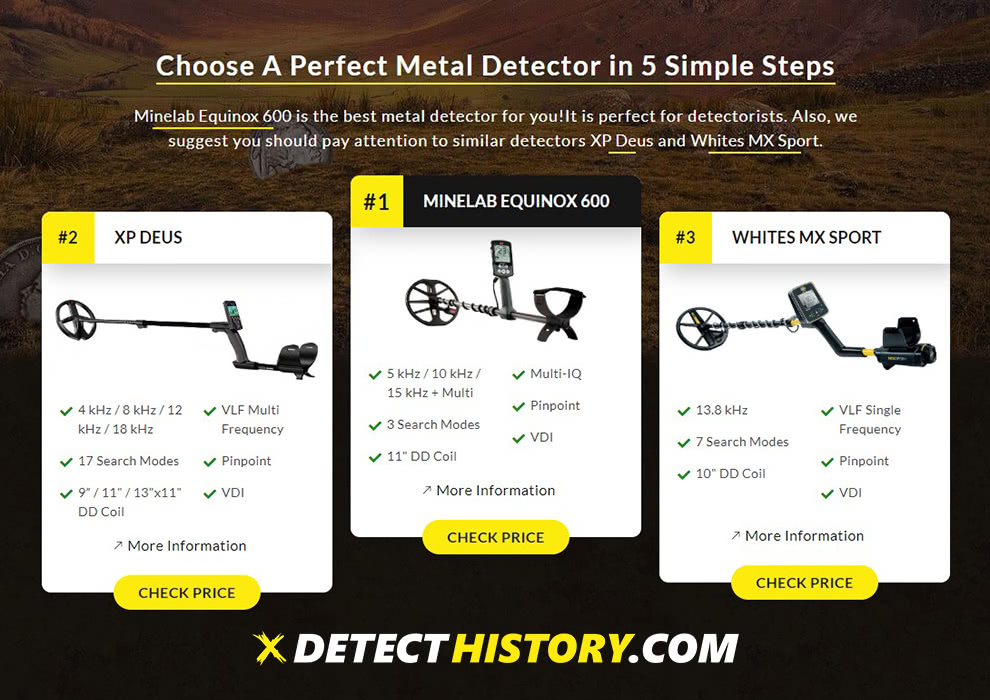 The tool will offer the most suitable model, plus two other products as alternatives. If you press the "Check Price" button you will see how much the device costs in one of the best online shops in the world. In case you would like to check out the review on this model (reviews are irresistible!), press "More Information".
Final Thoughts
Even if you are not sure whether you are going to buy a new metal detector in the nearest future, it is always useful to check possible options. The tool is completely free, so you can have fun with it and try several variations of own preferences. Answer five simple questions to instantly find out what three metal detectors are the best choice personally for you!